Wow! What an incredible response to the Hiding Romans 8 in My Heart challenge!
There are over 50 people—and counting—taking up the call to memorize the book of Romans 8 over the next 5 months.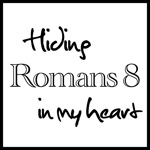 We start on Sunday, and we would LOVE for you to join us! Just leave a comment over here to let us know.
Be sure to check out the new resources page! You'll want to bookmark this page and check it often, as it is where we will be adding audio, wallpaper for your computer, memory cards, and other memory helps.
If you are still teetering, thinking about join the challenge, please join in! I know that it seems like such a huge task—I feel the fear of failure with you.
Our only hope in accomplishing this huge goal is through His grace as we walk in obedience, as He leads. Let's cling to the truth that He will enable us to do what He calls us to!
How can a young man keep his way pure?
By guarding it according to your word.
With my whole heart I seek you;
let me not wander from your commandments!
I have stored up your word in my heart,
that I might not sin against you.
Blessed are you, O LORD;
teach me your statutes!
With my lips I declare
all the rules of your mouth.
In the way of your testimonies I delight
as much as in all riches.
I will meditate on your precepts
and fix my eyes on your ways.
I will delight in your statutes;
I will not forget your word.
(Psalm 119:9-16 ESV)