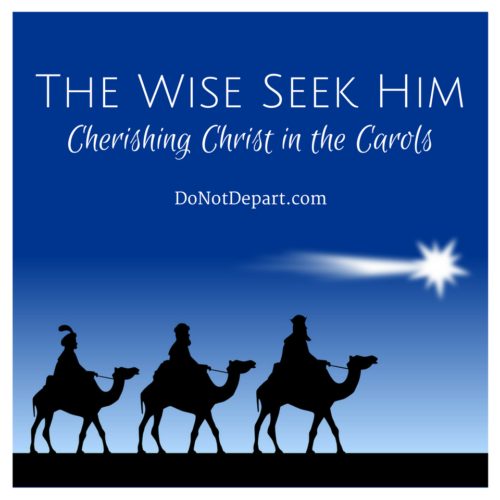 Christmas has passed, and many are already packing away their Christmas decorations. But the story of the child Jesus in the Gospel of Matthew does not end with his birth. Historically the Church celebrated an entire season of Christmas, beginning Christmas day, that continued through Epiphany (celebrated in the western church on January 6).
Epiphany marks the coming of the Magi as told in Matthew 2. There are few traditional Christmas carols about the Magi. The most well known is "We Three Kings" (often now called "We Three Kings of Orient Are"), which was also the first widely popular Christmas carol to have been written in the United States.
Who Were the Three Kings?
You have undoubtedly seen lovely images of a newborn Jesus lying in a manger while Mary, Joseph, numerous shepherds, and three kings bow before Him. As touching as this scene is, it would not have actually happened – biblical scholars agree that Jesus would have been a toddler when the Magi arrived.
Who were these Magi? We don't know much about them. Matthew tells us that "…after Jesus was born in Bethlehem of Judea in the days of Herod the king, behold, wise men from the east came to Jerusalem…" (Matthew 2:1).
The Greek word translated as "wise men" is magi, a form of the Greek root magos. This Greek word in turn finds its roots in the Ancient Persian word maguŝ, the Zoroastrian priests of Media and Persia who were believed by their followers to have supernatural powers.
There are numerous references in the Old Testament to wise men/magicians from other lands. The Babylonian King Nebuchadnezzar preferred the advice of Israelite captive Daniel to that of his own wise men (Daniel 1:19-20). The Egyptian Pharaoh elevated Joseph over the Egyptian wise men after Joseph was able to interpret his dreams (Genesis 41).
The idea of the Magi who visited Jesus being kings may have developed in part due a number of verses in the Old Testament. In Esther 1:13-14, the wise men whom King Ahasuerus consults are referred to as princes. Isaiah 60:3 prophesies "And nations shall come to your light, and kings to the brightness of your rising." Psalm 72:11 says "May all kings fall down before him, all nations serve him!"
Referring to the Magi as kings became firmly entrenched in the Middle Ages, and was solidified in the work "The Three Kings of Cologne" purported to be a history of the biblical Magi and written in the 14th century by Carmelite friar John of Hidelsheim. There is no scriptural evidence that the Magi were kings, however.
And how many Magi were there? It has become tradition to think of three, although there is no indication of how many actually visited Jesus. Scripture does detail three precious gifts of gold, frankincense, and myrrh, which is likely the reason why three Magi are usually depicted.
Tradition aside, what we know for certain from Scripture is that men with valuable gifts came from a distant land just to find Jesus, whom they understood to be a king. Certainly they were students of the stars. Perhaps they had even heard of Baalam's prophecy "…a star shall come out of Jacob…" (Numbers 24:17)
We Three Kings – The Carol
The carol "We Three Kings" was written in 1857 by Episcopal minister John Henry Hopkins Jr. for a Christmas pageant. Hopkins later published it in his book Carols, Hymns, and Songs, which allowed it to gain a wider audience. In the early 1900's it was included in the Oxford Book of Carols as well as the Episcopal Hymnal, making it the first American carol to be well known.
Hopkins' original intent was that the song be sung by three men, with all three singing the first and last verse, and individual men singing each of the middle three verses, representing different wise men each bearing a different gift.
The three gifts are beautifully presented in this carol as representations of Jesus' multifaceted role:
Gold for a king – Gold has long been the most sought after precious metal. 1 Kings 10:14-23 tells us that King Solomon, the wisest and most wealthy of kings, brought in 666 talents of gold in a year. Many scholars believe a talent weighed 75 lbs, others more. By the conservative measure, Solomon brought in 49,950 lbs of gold a year, which by today's prices would amount to over $900 million annually!
Frankincense for a priest – There are multiple instances in the Old Testament of frankincense being used as part of a ritual offering to the Lord (see Leviticus 2:1-2 for example).
Myrrh for a sacrificial savior – Myrrh was used as part of a sacred anointing oil (Exodus 30: 23-33). Nicodemus brought 75 pounds of a mixture of myrrh and aloe to embalm Jesus after his death (John 19:39).
While the Magi may have expected an earthly king, the One they found was so much more. Jesus is our King, our Priest and our Savior.
The Wise Still Seek Him
While "We Three Kings" is not the most biblically accurate carol, it is still a beloved reminder of the remarkable fact that men came from foreign lands to worship a baby about whom they knew nothing. While the Jews believed that the Messiah was to come just for them, from the very moment of Jesus Christ's birth, God showed that He had come for all.
Glorious now behold him arise;
King and God and sacrifice:
Alleluia, Alleluia,
sounds through the earth and skies.
– We Three Kings, verse 5
Like the Queen of Sheba who came with gifts to honor King Solomon, the Magi of old brought gifts to honor the tiny King of the Jews. They traveled from afar to behold "Something greater than Solomon" (Matthew 12:42)
"You will seek me and find me, when you seek me with all your heart." Jeremiah 29:13
All humans are seekers. It is part of how we were designed. We are wanderers in a strange land looking for someone or something to worship. Looking for light to guide us. No matter what people profess about their worldview, I guarantee you can find something they worship. Sadly, in the search for an object of adoration, many get snared by worldly idols.
The magi fell down and worshipped him when they saw him (Matthew 2:11)
Oh that all would be as wise as those Magi so long ago, who when they saw Jesus, fell down and worshipped! He defied every expectation, but with just a glimpse, they understood.
The King of kings. The Lord of lords. The Savior of the world.
In Jesus every need is met. In Him, our seeking hearts find home.