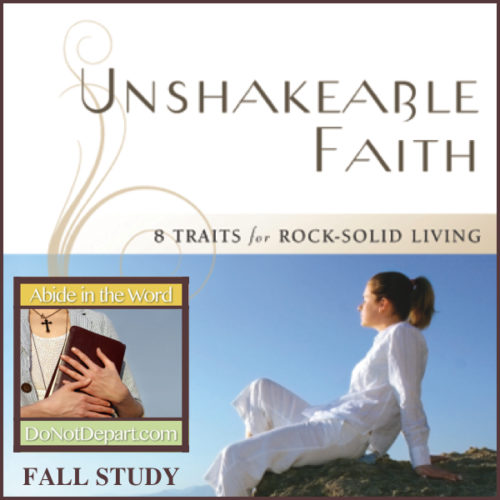 Does your faith shake when difficulties hit? Trials and hard times are inevitable, but we can have a rock-solid faith that will weather the storms.
Two weeks from today, we will begin a 10-week Bible study called "Unshakeable Faith." An invitation post with all the details ran last Wednesday. Check out the invitation post for more information and leave a comment to enter for a chance to win a copy of the book. Entries for the drawing close today! (Giveaway ended)
You can participate on one of three levels. (For the first two levels you do not need the book.) I would like to share with you one of the "Faith Shaker" stories that are included in the book. These are stories about real women, facing real struggles, and leaning on our Rock-Solid God!
Meet Karen, who learned to be secure in the God who loves and chooses her:
Bill physically left Karen the day before their 25th wedding anniversary, but he had been in the process of leaving for a long time. He started to drift away about five years earlier. He pursued interests on his own, resented the demands of family life, and even denied the God he had once believed in. Karen did everything she could think of to draw her husband back, but all her attempts seemed to push him further away.
Karen felt like she had lost her husband long before Bill admitted he wanted out of their marriage. His long disengagement had made her feel ignored, devalued, and ugly. His final act of walking out the door told Karen she was unwanted and unlovable. "The one person who promised to love me forever said he didn't anymore."
Karen begged God to fix everything – to fix Bill, to fix their marriage, to fix her. Many times she poured out her anger and distress while meeting with God on the floor of her dark closet. But the divorce still happened. So Karen clung to God.
"God did not save my marriage, but He did save me. He faithfully cared for me. Like when His people showed up to serve me, listen to me, or sit with me while I cried. And when the money I needed was there, and the lawn was mowed, and the children were loved on."
After three years and a lot of prayer, godly counsel, and Bible study, Karen knows she is dearly loved and wanted by God. "I was told that if I let Him, God would fill my every need as a single woman – my need to feel safe, secure, and loved. I did not fully believe that when I heard it, but God has certainly done it."
Do you ever struggle with feeling unloved and unwanted? How can remembering that God loves and chooses you help you experience joy and peace?
To find out more about the study and enter to win see the invitation post.