Last month, my husband Lee and I celebrated the ten year anniversary of the first day we met. I had driven from Dallas, Texas to Wake Forest, NC to start seminary and teach English at a Christian school. The administrator of the school had given Lee my new address and asked told him to show up and help the new teacher unload her U-Haul. He showed up, and the rest, as they say, is history.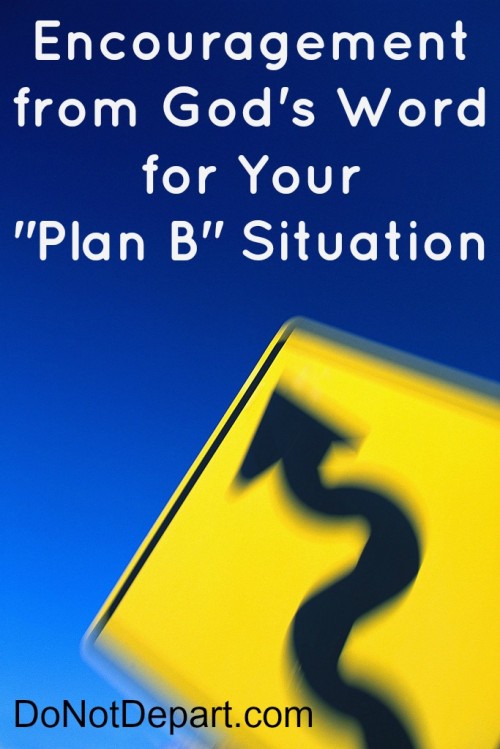 But I would not say everything in our lives from that day ten years ago until now has been perfect. It hasn't all been easy. We've had many "plan B" situations—times when our plan and God's plan didn't match. We have a child with autism. We have been in the long process of adoption for over two years now. Our house only has one bathroom. (Just keeping it real. Wouldn't everyone's "Plan A" include a house with more than one bathroom?) And even though I wouldn't have chosen each delay, diagnosis, or drawback, I can honestly say God's plan for our lives is perfect.
When God's plan interrupts my life and my plans, I have to turn to Scripture to remember who is really in charge. I need encouragement to face Plan B. Thankfully, His Word is full of Plan B situations, and reassurance for those of us going down different roads than we had planned.
One of the first (and one of my favorite) Plan B situations in Scripture is in Genesis, describing the long road Joseph was forced down so he could ultimately save his family and the Hebrew people. In 50:20, Joseph told his brothers, "As for you, you meant evil against me, but God meant it for good, to bring it about that many people should be kept alive, as they are today."
The Book of Psalms includes every emotion humans experience. One verse I cling to when the Plan B road looks long and lonely is 126:5, "Those who sow in tears shall reap with shouts of joy."
The prophet Isaiah spoke truth to a "deaf and blind" generation who had forgotten God. He spoke words of conviction, but he also spoke words of hope, including 55:8-9, "'For my thoughts are not your thoughts, neither are my ways your ways,' declares the Lord. 'For as the heavens are higher than the earth, so are my ways higher than your ways and my thoughts higher than your thoughts.'"
Although Christ Himself was Plan A for our salvation, He knew we would experience times of struggle. He told us, "Come to me, all who labor and are heavy laden, and I will give you rest. Take my yoke upon you, and learn from me, for I am gentle and lowly in heart, and you will find rest for your souls. For my yoke is easy and my burden is light," (Matthew 11:28-29).
And in the letter from James, writing encouragement to the early church and first generation Christians, he tells us, "Every good gift and every perfect gift is from above . . ." (1:17). If it is from God, we can trust is it good and perfect. Even if it is our Plan B.
Author and pastor Pete Wilson writes, "Your dreams may not be happening, and things aren't turning out the way you expected, but that doesn't mean your life is spinning out of control. It just means you're not in control. It's in those moments you can learn to trust the only one who has ever had control in the first place," (Plan B: What Do You Do When God Doesn't Show Up the Way You Thought He Would?).
Whatever Plan B situation you find yourself in today (or tomorrow), know that it's still God's Plan A for your life. Trust in that and praise Him for the encouragement you find in His Word.