Back in 2015, we did a month-long study on 1 John 4, a chapter all about how the why and how of God's love affects our sharing love with others. (If you want to reread any of those posts, click here to see all the posts from that series.)
This month, we're going to look at 1 John, 2 John, and 3 John and focus on John's discussion of truth and love and how those two things both come from God and go together. God is truth. God is love.
What does this mean for us as believers?
How do we handle truth with love?
How do we love regardless yet keep truth evident and foremost?
These are all aspects John writes about in his letters. And all of it stems from fellowship with God (1 John 1:6-7).
Fellowship with God means we seek, follow, and share truth.
Fellowship with God means we see, hear, and share love.
It's both of these things because God's love is truth and God's truth is love.
"This is the message we have heard from him and declare to you: God is light; in him there is no darkness at all." – 1 John 1:5
As we will see as we read through 1, 2, and 3 John together, following God's truth and love includes:
obeying God's commands,
loving others, including fellow believers,
faith,
and seeking truth.
And you know what? We all mess up at this at times (many times). But part of God's truth and love also offers forgiveness. That beautiful, grace-given forgiveness when we turn back and seek Him and His truth and love.
It's a walk, and one we might stumble on sometimes because we are imperfect. But, because of His love, we can get up and walk with Him again.
Join us this month as we go through 1 John, 2 John, and 3 John and walk together in God's truth and love.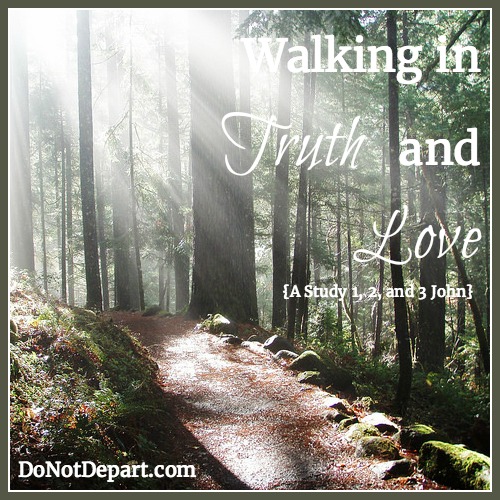 Extra Bible Study This Week:
Read through 1 John 1. (And read more, if you have time to!)
If you have access to a study bible, read through the introduction notes at the beginning of 1 John to gain understanding of the cultural situation at the time John wrote this letter. He was encouraging believers to be on the look out for false teachers, and part of doing that involved strengthening their walks with God.
What are ways you can actively walk with God in His truth and love this week? Read through 1 John 1 again and pray about an action that you can implement this week.
What about God's truth and love astounds you every time you consider it?