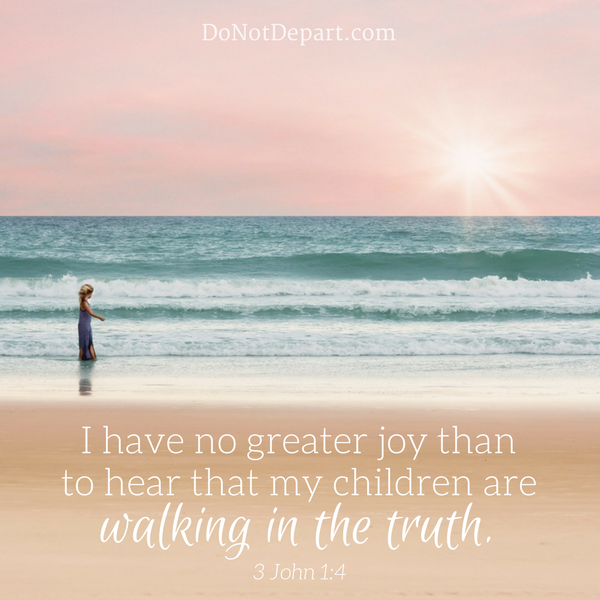 We are wrapping up our study of the letters of John today with 3 John—
prepare for action!
John's theme of truth and love continues strongly in his final letter. 3 John is addressed to Gaius, presumably a man of some influence in a local church, but as the name was common, scholars have not definitively identified him.
It is fitting that John begins his letter both by saying he loves Gaius in truth (the themes of love and truth intertwined again!), and that he prays that Gaius is physically as well as spiritually well. John connects the external and the internal throughout this message.
Walking Means Action
The Greek word for "walk" used in 3 John 1:3 is περιπατέω (peripateó) which is a combination of the words perí (around) and patéō (walk). This combination, and its metaphorical use, equates walking with how one conducts oneself in life.
Walking is not a passive act, friends. You do not walk by thinking about walking. You get up and you do it!
Why Truth and Love Are Intertwined
If someone asked you what "love" is, would it be easy for you to answer? Believe it or not your definition of love depends greatly on the culture in which you live. From a secular American worldview, love is a feeling of butterflies and happiness when you are around someone special. But from a Christian worldview, love is not a feeling, it is a choice lived out in action.
In order to love in Jesus' way, we have to understand His true definition of love. When we look at the truth given to us in Scripture, and modeled by Him in His earthly ministry, it is clear that love means serving.
Walking in Truth and Love
John commends Gaius for the actions he has taken to love the brethren—welcoming those who visit, supporting them, providing for their needs. John himself wanted to show his love by physically coming to see Gaius.
Our journey through life as followers of Jesus is an active one. Jesus is not pulling us in a wagon! We have to walk.
You choose – will you just say you love Jesus, or will you get up and actually follow Him in truth and love by serving the people He puts in your life today?
For Further Study:
Read 3 John and list all the ways John tells you to be actively pursuing love and truth.
What does John 17:17 tell you about the Word?
What does Matthew 22:36-40 tell you about love?
How can your answers to questions 2 and 3 help you walk in truth and love?
Ask God to show you those whom He wishes you to love in action this week. Write in detail how you will, with His help, pursue serving each person.