Don't we all just want a few minutes of peace?
No bickering between the kids. No stress with the husband. No to-do list left undone in a clutter-free house.
So if peace is a fruit of the Spirit, why do I often feel I lose mine? And where did mine go last week when my computer died—the very week I was studying peace?
Shalom
The Jews in the Old Testament called it shalom. They used it as a common greeting (Judges 19:20) and still do today. Deeper than our typical "How are you?" shalom was more a blessing of "May you be prosperous in all things."
But in the New Testament, peace (eirene) took on even greater depth. (Did you know peace is mentioned in every New Testament book except 1 John?) The apostle Paul coupled it with grace in his greetings—"Grace and peace to you." And rightly so.
Through grace, we receive the gospel of peace (Ephesians 6:15) from the God of peace (Philippians 4:9). Christ not only left His peace with us (John 14:27), but He is Himself our peace (Ephesians 2:14).
More than a feeling
So when our circumstances turn chaotic and our sons are sent to war and hearts are troubled from broken laptops, don't look for your peace there. Our peace was never meant to rest in those things anyway.
Because our peace—peace the world can't give—is more than a feeling.
It's a person.
And in the person of Jesus Christ, our deepest peace can't be disturbed (John 16:33). It's secure. If we've come into relationship with Him, we have a wellness in our soul beyond our understanding, even when our outside is stressed.
Peace in the presence
God's peace is above our intellect—don't try to figure it out (Philippians 4:7). You won't succeed.
But you can trust that it's there. That He is there.
Because peace isn't the absence of trouble.
Peace is the presence of God.
Even when the dog is barking and the car is overheating and the laptop is dying, God's peace runs deeper still.
Trust Him to guard it for you. So you can worry less; worship more. Think on good things, not on figuring things out.
God's got you covered.
He'll keep giving you grace.
And He'll always be your peace.
Grace to you and peace from God our Father and the Lord Jesus Christ.
Philippians 1:2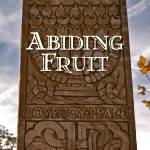 What did you glean from studying peace last week?
Please share any insights from Philippians 4:4-9.
How do you see the fruit of peace in your life?