Do you want to memorize scripture, but just don't think you can do it?
Do you lack a community which brings encouragement to keep going?
Do you need help with knowing how to get started?
We have just the thing for you!
Hiding Romans 8 in My Heart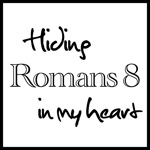 This is part of
Hiding His Word
, a challenge to make scripture a life-long habit. We want to give you tips, tools and encouragement to get you started, and keep you going!
Here Are the Details
Start date: Sunday, November 6th
Finish date: March 31
Pace of 2-3 verses a week, with a 2-week "life happens" buffer.
Week 1 November 6th-12th Romans 8:1-2
Week 2 November 13th-19th Romans 8:3-4
Week 3 November 20th-26th Romans 8:5-6
Week 4 November 27th-December 3rd Romans 8:7-9
Week 5 December 4th-10th Romans 8:10 -11
Week 6 December 11th-17th Romans 8:12-13
Week 7 December 18th-24th Romans 8:14-15
Week 8 December 25th-31st Romans 8:16-17
Week 9 January 1st-7th Romans 8:18-19
Week 10 January 8th-14th Romans 8:20-21
Week 11 January 15th-21st Romans 8:22-23
Week 12 January 22nd-28th Romans 8:24-25
Week 13 January 29th-February 4th Romans 8:26-27
Week 14 February 5th-11th Romans 8:28-29
Week 15 February 12th-18th Romans 8:30-31
Week 16 February 19th-25th Romans 8:32-33
Week 17 February 26th-March 3rd Romans 8:34-35
Week 18 March 4th-10th Romans 8:36-37
Week 19 March 11th-17th Romans 8:38-39
This is only a suggested pace. You can go whatever pace works for you. We will be using the ESV and we will be providing LOADS of resources for you (which are coming soon!)
Anyone can join, just leave a comment to let us know you're in! If you are on Twitter or Facebook, you can help spread the word about the challenge through a tweet or update like this:
I'm on the journey to memorize Romans 8 with @DoNotDepart Join me? http://ow.ly/7eTg4 #HideHisWord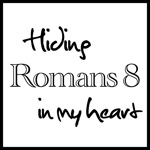 We are excited for all that is to come! Be sure to subscribe to Do Not Depart so you don't miss out on any of the great resources coming soon!
UPDATE: Be sure to check out the RESOURCES PAGE.