We have been walking through the wisdom books together this month. The five books of Wisdom – Job, Psalms, Proverbs, Ecclesiastes and the Song of Solomon – are replete with guidance for navigating life.
Do you ever wonder what wisdom actually is?
My husband makes the analogy that knowledge is like a player piano, and wisdom is like a piano player. The player piano has everything technically correct, but the piano player has the heart. Wisdom includes a type of understanding and discernment that allows a person to take information and apply it with nuance to each situation. Only humans can be wise. There are no wise computers!
Our beliefs about what is wise in a given situation are inherently driven by our world view. A person who believes the ultimate goal in life is to acquire as much as possible would think it wise to invest and negotiate with no thought to the human cost. This is the type of worldly wisdom that organized the bookstore Julie visited in her post earlier this month.
But we Christians have a different world view. Godly wisdom has Jesus Christ as our focus.
Christ the power of God and the wisdom of God. 1 Corinthians 1:24b
If we want to grow in wisdom, we begin with the Lord, and with His Word.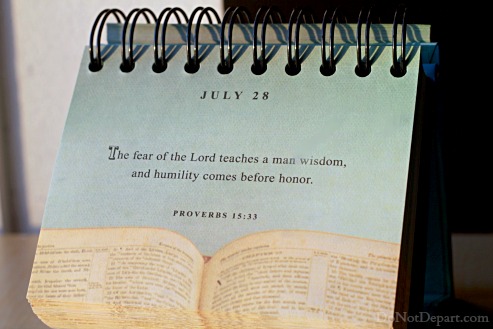 The book of Proverbs is chock full of little snippets about wisdom. I have, at times, found my eyes glossing over as I have read through Proverbs… so many of them, one right after the other. So this year I decided I wanted to slowly chew on Proverbs all year. I bought a scripture-a-day calendar of Proverbs and put it where I could see it while washing the dishes. One Proverb a day to consider.
Perhaps you also would like to grow in understanding of what godly wisdom is. I compiled a printable with eighteen proverbs that each address wisdom. You can download and print the Wisdom in Proverbs sheet, and slowly digest these tidy little proverb packages.
May you be blessed as you grow in wisdom in Christ!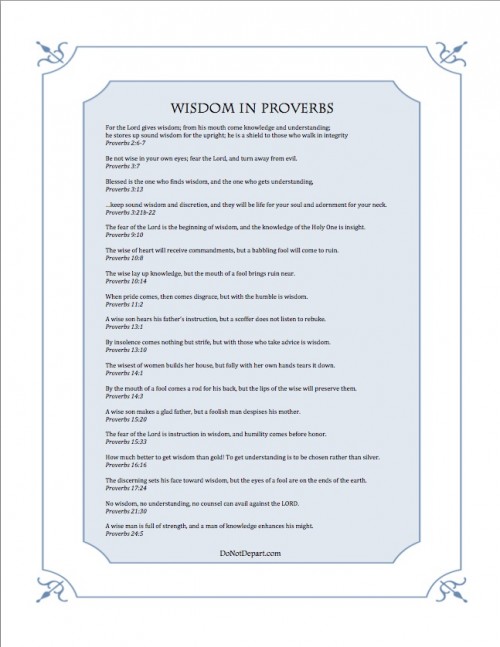 How do you like to study Proverbs? Click here to share your tips for absorbing these little nuggets in the comments.
Download Wisdom in Proverbs by first clicking here, then pressing the "download" button on the top right.