Let no corrupting talk come out of your mouths, but only such as is good for building up, as fits the occasion, that it may give grace to those who hear.
Ephesians 4:29
You're often told to watch your words. To think before you talk. To be slow to speak (James 1:19). And it's wise advice. Words spoken with no thought can do great harm.
But that doesn't mean you have to keep quiet. Your words are gifts to be handed out to encourage and help others (Ephesians 4:29).
And you've never had greater opportunity to say more words to more people with greater speed than today.

Gone are the days of Joseph and Mary when word didn't travel fast. Back then, even though the Roman roads were great for their time, communication was only as fast as the messenger could travel. When Caesar Augustus sent out his decree for census registration (Luke 2:1), prompting Joseph and Mary to travel to Bethlehem, the message was probably delivered via a rider on horseback. There may have been a station every ten miles for trading in fresh horses, and every twenty-five miles for new riders or for lodging.
And with the exception of the angels shouting glad tidings from the sky itself, the news of Jesus's birth couldn't have traveled quickly either. Shepherds on feet couldn't compare with a Facebook status—including photos from your iPhone!—for speed of a birth announcement.
Today, with a single click on a keyboard, the whole world can have instant access to your words.
So should you be wary of using words because they can so easily go viral, with no retrieval once "send" is hit?
While there are always things you'll need to ponder and pray over before saying, other things are safe to send anytime, anywhere. People still need a now word from the Lord as much as ever! And if the Spirit gives them to you to share, don't be stingy. Send them on.
Here are 4 things you can send out daily–and quickly–with no worries.
1. Thank you
Never hesitate to tell someone thanks for a job well done or for doing you a favor. You can't go wrong with gratitude.
For this reason, because I have heard of your faith in the Lord Jesus and your love toward all the saints, I do not cease to give thanks for you, remembering you in my prayers.
Ephesians 1:15-16
2. I'm sorry
Apologies are always welcome, too. As soon as you can mean it, say it. The quicker you admit you're wrong, the quicker the healing can begin.
Therefore, confess your sins to one another and pray for one another, that you may be healed. The prayer of a righteous person has great power as it is working.
James 5:16
3. God bless you
Most people won't refuse a blessing. So be generous in praying God's best for those you're around. What a powerful way to show you care and that God does, too.
The LORD bless you and keep you; the LORD make his face to shine upon you and be gracious to you.
Numbers 6:24-25
4. I love you
Can anybody hear this too much? Your purpose on earth is to love God and love others. So do it, but also say it. Telling others you love them is a word you can send quickly and frequently.
A new commandment I give to you, that you love one another: just as I have loved you, you also are to love one another.
John 13:34
So if you have something good to say today, let those words travel fast.
May your words of faith, hope, and love go viral!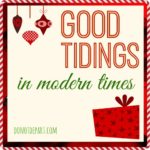 Here's a fun video if Jesus had been born in our digital age:
[click here if you can't see the video]

Which social media are you quickest to reply to?
Have you ever sent an email you wish you could take back?
Who can you encourage today with your words?
Please leave a comment below.