I dream that in a moment of dramatic testing, I'd make the big sacrifice. You know the one—gun to the head, demanding me to deny Jesus, my very life at stake. And I boldly proclaim, "Jesus forever!", giving up my earthly life.
Yet I can't give up my place in line at Walmart?
Do you also experience these smaller tugs of war to die to self and live for Christ? Afraid that if you loosen your grip, the situation will spin out of control or a treasure will slip through your fingers? I want to hand over all my concerns and plans to the Lord, but I don't do it as fully as I'd like.
So how do we learn to let go of our will and grab hold of God's?
HOW DID JESUS DO IT?
In coming to earth—trading in the Taj Mahal for a shack—Jesus turned Himself inside out, laying down all the privileges of royalty, living in the skin of a servant instead.
Who, though he was in the form of God, [Jesus] did not count equality with God a thing to be grasped, but made himself nothing, taking the form of a servant, being born in the likeness of men.
Philippians 2:6-7
How could He? Because He wanted to please the Father more than He wanted to please Himself (Luke 22:42). And because He understood the joy to come would exceed the cost of the moment (Hebrews 12:2).
So He surrendered to the moment (Luke 23:46).
YOUR MOMENT OF SURRENDER
Which moment is your grand moment of surrender? This one.
Maybe you're not asked in this moment to physically die for the cause, but you are daily called to numerous symbolic deaths. Consider these five practices to help surrender a little thing today.
5 LITTLE THINGS TO GIVE UP
1. Give up the last word
In that discussion with your man or a co-worker, eliminate a few of your own words and instead listen to more of theirs. Giving up your demand to be understood and have the last word makes a difference in the climate of your home or office. Jesus was amazing at this (Mark 15:3-5).
2. Give up your place in line
That harried mom with the whiny toddler? Let her cut in line at the grocery store. Or make room for that speeding maniac to merge in front of you in traffic. By surrendering your place in line—literally and figuratively—you practice putting others before yourself, exactly what God did for you (Romans 8:32).
3. Give up doing it alone
Winning the prize for "Ms. Independent" isn't a trophy you want. Practice humility by accepting help from others and learn selflessness by giving help to others. Even Jesus did nothing by Himself (John 5:19).
4. Give up a dollar
If your finances allow, add an extra dollar above your normal tip to the waitress. Or toss some cash to the guy collecting money for a good cause outside the mall. Small sacrifices are big practices for storing less treasure here and releasing more into the Kingdom (Matthew 6:19-21).
5. Give up the clear answer
Sometimes we hesitate and wait for overwhelming confirmation and safety before we'll step out in faith. And while Jesus says count the cost, he also says follow him (Matthew 8:22). Peter didn't have time to analyze the water temperature and buoyancy levels before he walked on the water to Jesus. Surrender your desire for perfect clarity and instead depend more on God's grace.
LITTLE IS BIG
Every surrender is an offering to God that can bring Him glory, no matter its size. And maybe the little things are really big after all. Because when we surrender to Jesus, we lose nothing of value, but we gain an eternity of joy.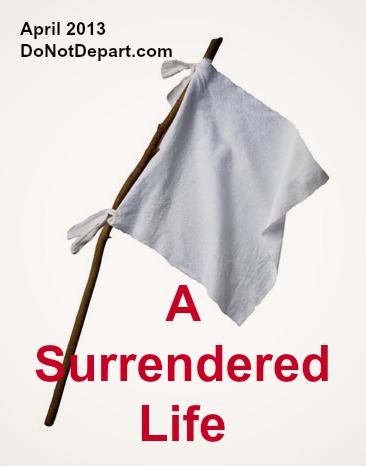 What "little things" are hard for you to surrender on a daily basis? What helps you give them up? Do you have a favorite scripture about surrendering? Please leave a comment below.