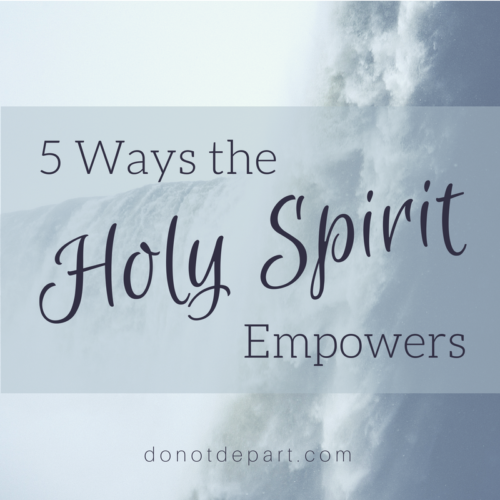 "Repent, let every one of you be baptized in the name of Jesus for the remission of sins; and you shall receive the gift of the Holy Spirit." (Acts 2:38)
These were the words Peter boldly proclaimed as He finished his first Holy Spirit powered sermon.
Repent. Be baptized. Receive the Holy Spirit.
All this month we have been attempting to answer this question: Who is the Holy Spirit? Though we finite humans could not possibly write a blog series to fully encompass a infinite God, we have selttled on a few things so far.
The Holy Spirit's deity is equal to that of God the Father and God the Son; being all-knowing, all-powerful, and all-present.
The Holy Spirit is our Helper.
The Holy Spirit bears witness to the true-truth.
The Holy Spirit also empowers us to do many miraculous things for our good and His glory. By the power of the Holy Spirit we can:
boldly proclaim the gospel;
But you shall receive power when the Holy Spirit has come upon you; and you shall be witnesses to Me[a] in Jerusalem, and in all Judea and Samaria, and to the end of the earth. (Jesus to His disciples before he ascended to Heaven, Acts 1:8)
pray when we do not know how;
Likewise the Spirit also helps in our weaknesses. For we do not know what we should pray for as we ought, but the Spirit Himself makes intercession for us with groanings which cannot be uttered. (Romans 8:26)
appreciate the mystery of the gospel;
that He would grant you, according to the riches of His glory, to be strengthened with might through His Spirit in the inner man, that Christ may dwell in your hearts through faith; that you, being rooted and grounded in love, may be able to comprehend with all the saints what is the width and length and depth and height— to know the love of Christ which passes knowledge; that you may be filled with all the fullness of God. (Ephesians 3:16-19)
deny our flesh and live rightly;
For the law of the Spirit of life in Christ Jesus has made me free from the law of sin and death. (Romans 8:2)

And if Christ is in you, the body is dead because of sin, but the Spirit is life because of righteousness. But if the Spirit of Him who raised Jesus from the dead dwells in you, He who raised Christ from the dead will also give life to your mortal bodies through His Spirit who dwells in you. (Romans 8:10-11)
abound in hope and be filled with joy and peace.
Now may the God of hope fill you with all joy and peace in believing, that you may abound in hope by the power of the Holy Spirit. (Romans 15:13)
I'm sure I've missed some, if not many, of the works that the Holy spirit empowers us to do (as I've said, I'm a finite human trying to write about an infinite God). But despite the short length of this list, we need to remember that these things can only be done by His power, not our own.
If you are not seeing this type of power in your life ask yourself these questions:
Have I repented of my sin?
Have I been baptized in the name of Jesus?
Have I received (taken hold of) the gift of the Holy Spirit?
If your answer is no, then simply follow the instructions that Paul gave in Acts 2:38 and patiently wait for the Holy Spirit to manifest His power in your life.
If you can honestly answer yes to these questions, then begin praying the above scriptures back to God. Ask the Holy Spirit to empower you to live courageously for His kingdom. These prayers are inline with the will of God the Father and they will be answered. While you wait for Him to respond, continue to abide in Jesus and trust that He is preparing you for the work He will empower you to do.
Let's pray.
Father in Heaven, thank you for sending your Holy Spirit to empower us to do your will. Please forgive us if we have ever attempted to do any of it by our own strength. Help us to rely on and trust in your power. Empower us to boldly proclaim the good news. Give us the power to pray as we should. Empower us to know, understand and appreciate the mystery of  the gospel. Help us to deny our flesh and live rightly for you. By your power, may we abound in hope, joy and peace. In the name of your Son we pray, amen.
---