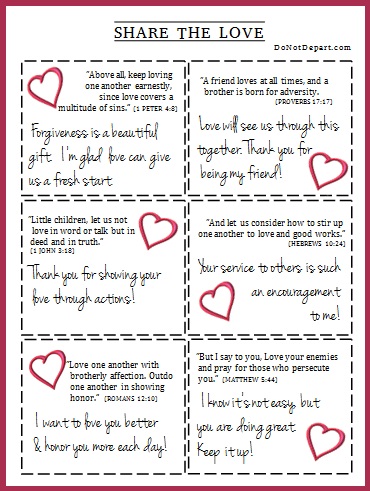 Where were you thirteen years ago on 9/11?
I was at Domino's Pizza on a field trip with my daughters. As the children were making their own pizzas, we moms noticed the workers flocking to the kitchen, gathering around a small TV. They were in shock. Shortly we were, too.
And we all wanted to be with those we loved.
Remember the great displays of love and faith that followed, passing through families, our nation, and around the world?
Let's not wait on a huge tragedy to prompt us to love. All of us need a little extra love on a daily basis to get through even the small bumps of life.
We've created 6 Love Notes from scripture for you to print and share with someone this week. Cut them out, sign your name, then pack one in a lunch bag, tuck in a sock drawer, mail in a card, click a pic to Instagram, or Facebook one to a friend.
Here are some suggestions on who to send them to and why.
Someone who has forgiven you or who longs for your forgiveness
1 Peter 4:8
Someone who needs your support or who is supporting you through a hard season
Proverbs 17:17
Someone you need to thank for how they've loved you
1 John 3:18
Someone whose service to others needs a pat on the back
Hebrews 10:24
Someone you're trying to love better and honor more
Romans 12:10
Someone who is working hard to love their enemies
Matthew 5:44
Remember that YOU count as that "someone" as well. If you need to be reminded of that word from the Lord, put the love note in a place you can see often.
We learn about love in the scriptures so we can experience love in real life.
The more we believe and receive God's love for ourselves, the more we can spread it to others. Ready . . . set . . . love!
Download and print: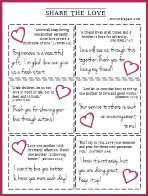 Where were you on 9/11?
Who did you need to talk to first?
Is there someone you can spread love to this week with a love note?
We'd love to hear in the comments.