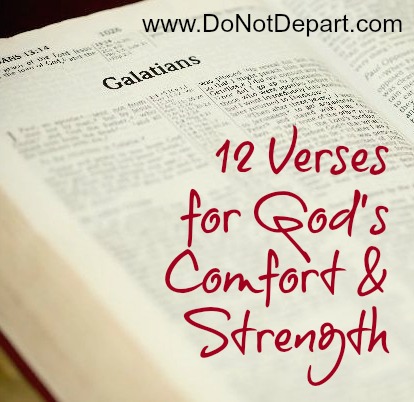 The grief was raw. The crisis was fresh. I woke in the middle of the night, overwhelmed, feeling the weight of it pressing in.
Feeling on the verge of an anxiety attack, I began to pray. Then the Holy Spirit reminded me of Scriptures I had memorized. As I prayed them back to God, calm washed over me. Soon, I drifted back to sleep.
God's timing is perfect. When that trial hit a few years ago, I was in the middle of writing a devotional book for "troubled times." Because I had "hidden His Word" in my heart, it was there for God to use when I needed it most.
From beginning to end, the Bible assures us of God's comforting presence and strength in times of trial and difficulty. The 12 verses below are some of my favorites. You can commit them to memory or print the pretty PDF version and keep it some place you'll see it often.
Deuteronomy 31:8 – God goes before and with us. We do not have to be afraid or discouraged because He will never leave or forsake us.
Psalm 9:10 – God never forsakes those who seek Him.
Psalm 46:1 – God is our refuge and strength.
Psalm 73:25-26 – No matter what we lose in this life, we have God and He is all we need.
Isaiah 40:31 – God renews the strength of those who hope in Him.
Isaiah 43:2 – When we face difficulties, God goes with us.
Jeremiah 32:17 – Nothing is too hard for our God.
Matthew 11:28-30 – Jesus invites us to bring our burdens to Him.
Romans 8:39 – Nothing can separate us from God's love.
Second Corinthians 4:7-9 The world may press us hard, but God's strength and presence will not allow us to be crushed.
First Peter 5:7 – God cares about us and every aspect of our lives.
First John 4:4 – God is far greater than Satan.
Perhaps you're going through a season of difficulty and trial. Or maybe someone who is close to you is struggling. These passages can be a balm to your soul. Plus, they're merely a small sample of the amazing truths about God's great love and care for us.
Share your favorites in the comments below or tell us how one of these verses has ministered to you. Rest in His loving embrace today!