I'm the type that always has a to-do list. My brother teases me that my dad and I are so similar – we're never bored because there's always something to do. Several benefits come from staying motivated to get things done, but a few stumbling blocks occur, too. One big downfall: it can be very hard to make myself rest.
Physical rest is actually easier than mental/emotional rest. But all rest is essential at times.
I forget that to rest means to restore.
We need to rest in order to rejuvenate and build back those pieces that have worn down, broken, become thin.
Rest is so important, God made it a part of our week from the beginning.
"So God blessed the seventh day and made it holy, because on it God rested from all his work that he had done in creation." – Genesis 2:3
As usual, my busy brain forgets, and I need reminders. God knows that, and hundreds of reminders exist in His Word.
8 Bible Verses on Rest
Some of these verses speak on God's gift of rest, and some remind us of the importance of taking rest.
Exodus 33:4 – "And he said, 'My presence will go with you, and I will give you rest.'"
Psalm 23:1-13 – "The Lord is my shepherd; I shall not want. He makes me lie down in green pastures. He leads me beside still waters. He restores my soul. He leads me in paths of righteousness for his name's sake."
Psalm 55:22 – "Cast your burden on the Lord, and he will sustain you…"
Psalm 116:5-7 – "Gracious is the Lord, and righteous; our God is merciful. The Lord preserves the simple; when I was brought low, he saved me. Return, O my soul, to your rest; for the Lord has dealt bountifully with you."
Isaiah 30:15 – "For thus said the Lord God, the Holy One of Israel, 'In returning and rest you shall be saved; in quietness and in trust shall be your strength.'"
Matthew 11:28-29 – "Come to me, all who labor and are heavy laden, and I will give you rest. Take my yoke upon you, and learn from me, for I am gentle and lowly in heart, and you will find rest for your souls."
Hebrews 4:10-11 – "…for whoever has entered God's rest has also rested from his works as God did from his. Let us therefore strive to enter that rest, so that no one may fall by the same sort of disobedience."
Psalm 62:5 – "Yes, my soul, find rest in God; my hope comes from him." (NIV)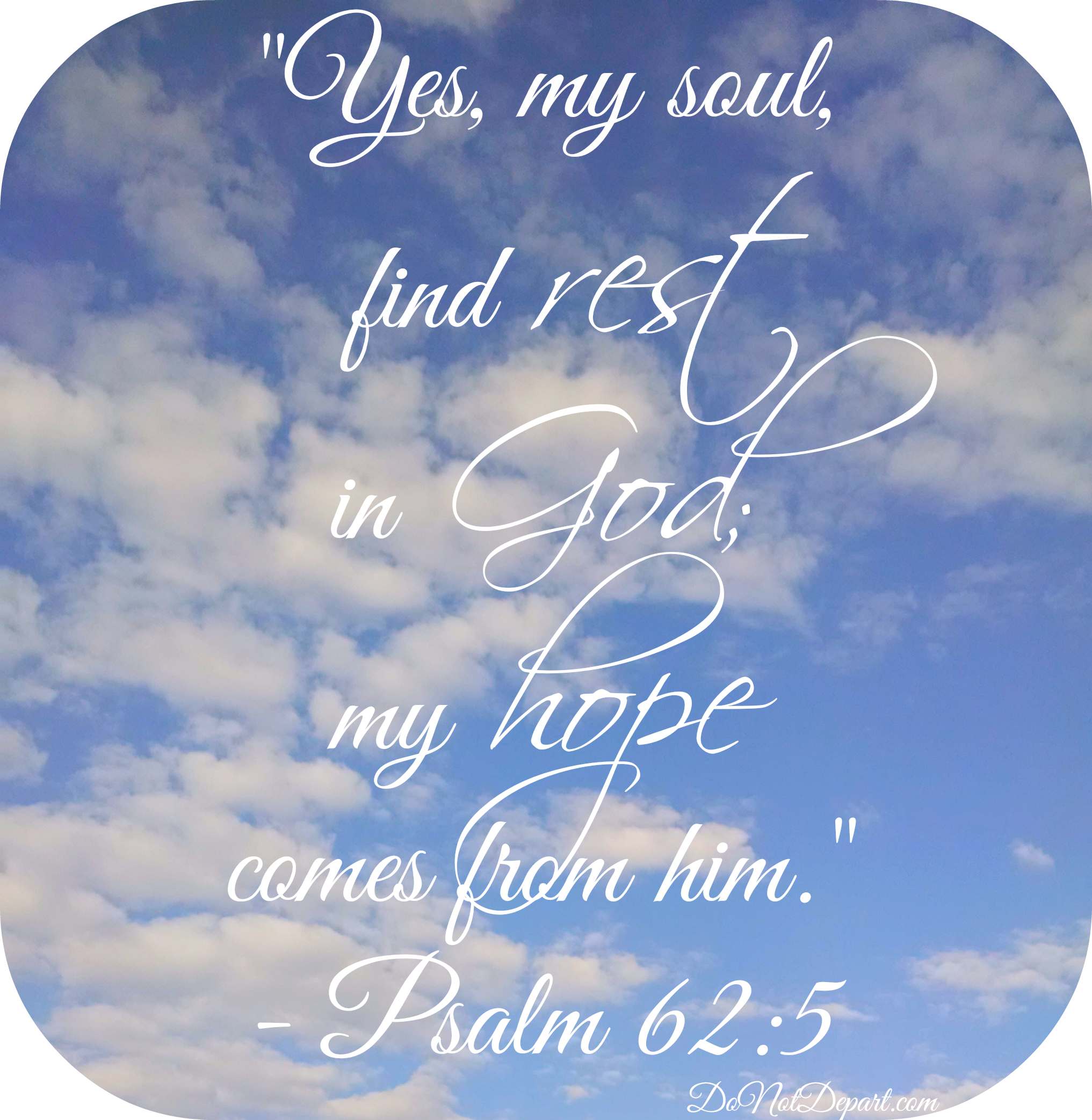 (To save this downloadable image, right click on the photo, then click "Save As…" This image is not to be edited, sold, or hosted elsewhere. Thank you!)
How do you remind yourself to rest?