I showed up with her favorite lunch, which we shared while chatting at her bedside. She sat in her wheelchair while I perched where her roommate could keep a jealous eye on me. I asked about her bruising and her wrapped foot, her therapy and her progress. We talked and remembered and planned for a future drive to her childhood homeplace and an Autumn trip to the mountains. But inside, where I could not see, her illness was gaining ground.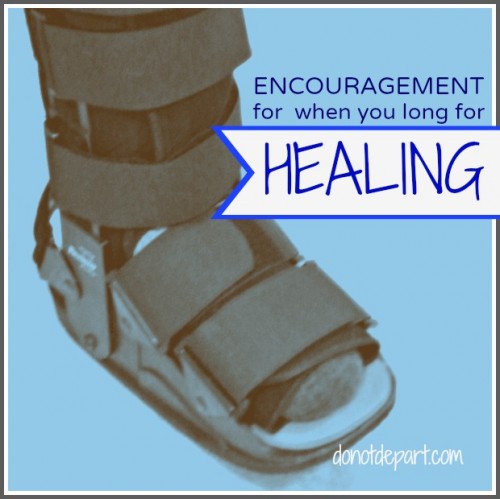 Illness takes time to take hold, so it's rarely defeated instantly. Often unseen, its progress lurks under a familiar smile, toss of the head, or sparkle in the eye, until the day of diagnosis. That's the day when a disease declares its unwelcome presence, making it known that a battle is underway. And then we fight and hope and pray for healing to come. Just as physical or emotional illnesses progress over time, so too restoration often comes with the slow passage of days or weeks or years.
God is identified as the Healer: Jehovah Rapha. He may use wisdom He gives to man or the resources of earth transformed through technology, but no healing happens apart from Him. His plan includes conquering death physically and spiritually. When we or our loved ones suffer pain, we join in God's grand plan by engaging in prayer for healing. Since our grief and concern may make it hard to know where to begin, use these words from scripture to call on the name of Jehovah Rapha, the God who heals.
ENCOURAGING verses for when you long for healing
"I am the LORD, your healer." (from Exodus 15:26) ~ God, You have an actual NAME that means you are the healer. Would you intervene in the life of _______ to bring healing at the best time and in the best way?
"When you pass through the waters, I will be with you; and through the rivers, they shall not overwhelm you …" (Isaiah 43:2a) ~ Thank you, Jehovah Rapha, for staying with us in the most difficult times of life, even in the times when we are at our weakest, physically and emotionally.
"My son, be attentive to my words; incline your ear to my sayings. Let them not escape from your sight; keep them within your heart. For they are life to those who find them, and healing to all their flesh."(Proverbs 4:20-22) ~ Dear Lord who made __________, help us absorb your truths in our hearts and minds during this time of sickness. Use your words to bring energy, restoration, and healing to _________ emotionally and physically.
"Therefore, confess your sins to one another and pray for one another, that you may be healed. The prayer of a righteous person has great power as it is working." (James 5:16) ~ Show us if there's any sin eating away at us, and help us to uphold one another well.
"He will wipe away every tear from their eyes, and death shall be no more, neither shall there be mourning, nor crying, nor pain anymore, for the former things have passed away." (Revelation 21:4) ~ Jehovah Rapha, we look forward to the day when there will be no more pain or disease leading to physical death. Would you comfort ____________? We want and need Your comfort!
Sometimes healing is reserved for heaven. We don't always have the chance to see it with our earthly eyes, though we long for it on our timetable. Instead, some pain waits for fuller, more glorious, restoration.
Death is swallowed up in victory when healing finally comes.
Before I could drive my frail friend to her old Tennessee homeplace or make our trip to the mountains, she passed from this world to heaven. Illness was her means of escape, but complete healing awaited her in heaven. She is well. Very well.
Click here for 10 Ways to Pray for Sick Friends, including a printable version with scripture to pray.