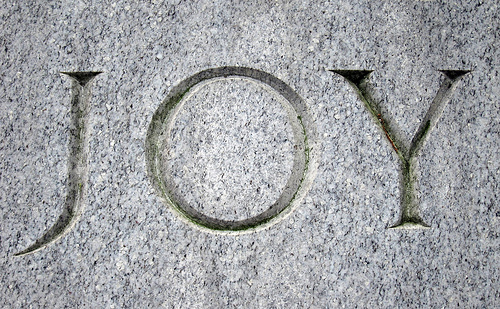 photo by John Taylor
Of all the authors in the bible, David is my go-to guy when I am feeling down.  David had a remarkable way of pouring out his sorrow to the Lord eloquently.  He wasn't afraid to be real.
What appeals to me about David's writings is that no matter how miserable he was, no matter how hopeless and desperate it all seemed, he always ended up praising God. David knew where he stood with the Lord.
While certainly not one of his darker psalms, in Psalm 16 David still implies that not everything is ideal. He is in need of protection (v. 1, 8, 9), surrounded by idol worshipers (v. 4), and perhaps even has insomnia (v. 7)! But his focus is not on these things.
David affirms that all the good he has is in the Lord (v. 2), that he delights in fellow believers (v. 3), that God is his refuge (v. 1) and his counselor (v. 7), the giver of knowledge (v. 11), and much more.  The Lord is David's inheritance (v. 5-6). He even foreshadows the coming Savior (v. 8-10).
In the final verse of Psalm 16, David proclaims to God:
… in your presence there is fullness of joy …
As we continue to explore the fruits of the spirit together, this week we have turned our attention to joy. If asked to define joy, I think most people would equate joy with happiness. But I believe that there is a profound distinction between human happiness, and joy that is a fruit of abiding in Christ.
Unlike happiness, joy is not dependent upon circumstance. David was able to find joy in the Lord even in the midst of his many trials. So was Paul:
I know how to be brought low, and I know how to abound. In any and every circumstance, I have learned the secret of facing plenty and hunger, abundance and need. I can do all things through him who strengthens me.  – Philippians 4:12-13
A few weeks ago we studied John 15:1-11 as we explored the benefits of abiding.   Jesus taught the disciples that the way to abide in Him is to keep His commandments. The result?
... that my joy may be in you, and that your joy may be full. – John 15:11b
As I looked at John 15:11 alongside these verses…
… in your presence there is fullness of joy … – Psalm 116:11

May the God of hope fill you with all joy and peace in believing, so that by the power of the Holy Spirit you may abound in hope. – Romans 15:13
… I began to contemplate what it means to have fullness of joy. A little word study helped me flesh out the meaning of this phrase.
The Hebrew word used in Psalm 16:11 is soba.  Soba means to be filled, to be satisfied, often with abundance. Along with the word it is derived from (saba), it is mostly used elsewhere in the Old Testament to refer to a full stomach.
The Greek word used both in John 15:11 and Romans 15:13 is pleroo. Pleroo taken literally means to fill up. It is used in Matthew 13:48 to talk about filling a net full of fish, and in Luke 3:5 when quoting Isaiah saying "Every valley shall be filled, and every mountain and hill shall be made low…"
The images of an empty stomach, an empty net, an empty valley… all made me think of that emptiness we each have within.
Blaise Pascal, mathematician and philosopher (1623-1662), wrote this in his Pensées:
What else does this craving, and this helplessness, proclaim but that there was once in man a true happiness, of which all that now remains is the empty print and trace? This he tries in vain to fill with everything around him, seeking in things that are not there the help he cannot find in those that are, though none can help, since this infinite abyss can be filled only with an infinite and immutable object; in other words by God himself.
When I choose to abide in Christ by keeping His commandments through living a life of loving, He fills that empty place with His joy. Fills it until I am satisfied. Fills it abundantly!
Can you relate to the idea of a God-sized hole within?
Have you experienced being filled with the joy of the Lord even in difficult circumstances?
What did you learn in your study of joy this week?