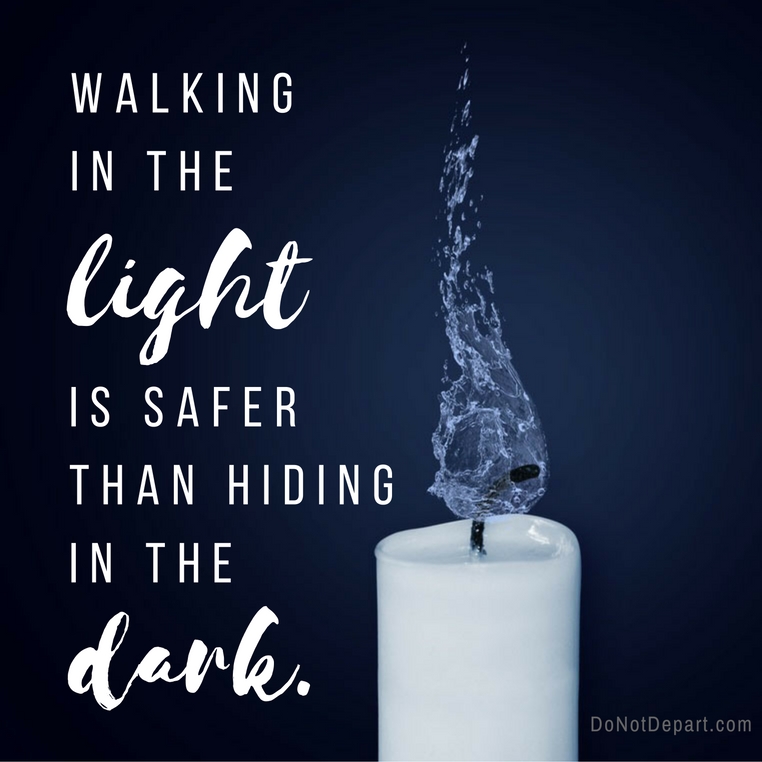 Are you scared of the dark?
Or scared of the light?
And God said, "Let there be lights in the expanse of the heavens to separate the day from the night. And let them be for signs and for seasons, and for days and years,
Genesis 1:14
and let them be lights in the expanse of the heavens to give light upon the earth." And it was so.
Genesis 1:15
And God made the two great lights—the greater light to rule the day and the lesser light to rule the night—and the stars.
Genesis 1:16
And God set them in the expanse of the heavens to give light on the earth,
Genesis 1:17
to rule over the day and over the night, and to separate the light from the darkness. And God saw that it was good.
Genesis 1:18
And there was evening and there was morning, the fourth day.
Genesis 1:19
As we study our new series this month, God the Creator, we're also looking at our own creations. Because God is creative, and we are made in His image, we also are creative.
When God created something, He displayed it. He made it available.
But when we create something, we often want to hide it.
Why are we afraid of the light?
If we show others who we are, what we've done, how we love, we're often afraid of being rejected. Of not being good enough. Of our creations being unappreciated or devalued.
But human approval isn't our goal. Striving for fleshly perfectionism only hinders, not helps. Creativity begets creativity, and with God involved, it's always enough.
What Are You Making?
What are we creating anyway? Maybe you're an artist by profession. You paint or sculpt or illustrate.
But there are infinite ways to be creative that extend beyond the traditional definition.
Perhaps you write a blog.
Or you work with children.
Or you prepare three meals a day for your family.
Maybe you heal broken bodies or keep track of finances or wait tables.
Each of those is an act of creation.
And more importantly, done with the motivation to honor God, they also are each an act of love.
You are the light of the world. A city set on a hill cannot be hidden.
Matthew 5:14
Nor do people light a lamp and put it under a basket, but on a stand, and it gives light to all in the house.
Matthew 5:15
In the same way, let your light shine before others, so that they may see your good works and give glory to your Father who is in heaven.
Matthew 5:16
How can you use your creations as a light on the hill for God to be glorified?
Shine the Light
Start with one step. If there's a project you've been wanting to start, instead of being overwhelmed by the workload to get to the finish line, just do the first next thing.
Then do it afraid. None of us wants fear as a sidekick. But we can't wait for fear to disappear before we share our gifts of love with the world. We may have to hit "publish" on our blogs with trembling fingers or say "Nice to meet you" to a new neighbor with a shaky voice. Put fear in the shadows when your light needs to shine.
In him was life, and the life was the light of men.
John 1:4
The light shines in the darkness, and the darkness has not overcome it.
John 1:5
As God created the sun to shine in the day and the moon to shine in the night, He also created us to be brilliant reflections of His love.
Plants grow toward the light to feed their leaves; we, too, grow toward the Light to replenish our souls. When we mirror His image back to those in our lives, we release beautiful things that need to be seen.
Walking in the light is safer than hiding in the dark. Whatever our gifts and talents are, if we use them to serve others, they'll illuminate and glorify God.
For at one time you were darkness, but now you are light in the Lord. Walk as children of light.
Ephesians 5:8
Extra Study
Close your eyes for 10 seconds. Can you still tell where light is coming from?
Open your eyes and look toward the brightest source of light where you are. Is it natural or man-made? What is it helping you to do?
Read through these verses on "light" from Blue Letter Bible. Which one stands out to you?
Say a prayer of thanks to God right now for the Light in your life and how He will help you shine light on your own creativity for His sake.
Related:
Do you think you're a creative person? What prevents you from releasing your creations to the world? Please share in the comments.