When times seem darkest, your light—however small or dim—shines brightest.
We've been asked to arrive at church on Sunday mornings at 8 a.m. for a final practice of our worship songs. It means I set my alarm a little earlier than I'd like. But when I arrive at 8, it seems they're not ready for us.
Should I just sleep later and arrive later, despite the request? I've been considering it. Until last Sunday . . . .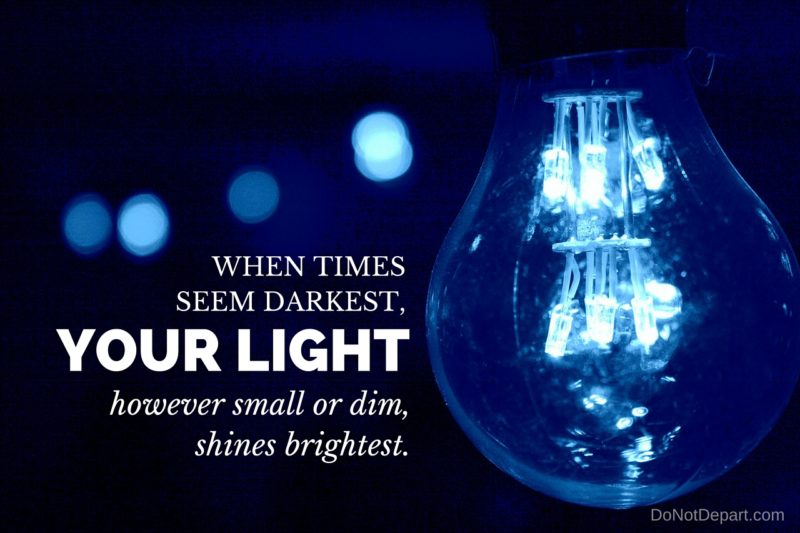 Priestly Duties
Sometimes we look around us and see a mess. Fighting in the streets. Mud-throwing from political candidates. Hatred on social media.
Is there any point in trying to make a difference? Or should we all just sleep in?
I wonder how the high priest felt back in the old days. Twice every day—every single day, rain or shine—he had to enter the tabernacle and light the candles in the holy place (Exodus 30:7-8). Who would even notice? Could he slide by and just do it once a day if he was sick or tired or busy?
He had other duties, too. Important ones, like offering sacrifices for the people's sins. Offering gifts to God on their behalf. Remaining ritually clean beyond anything required by other people.
Yet the sincerest of the priests did it. Why? Because he was called by God to do it. And he took that call seriously.
Called, Not Self-Appointed
As we continue our study in Hebrews 4:14-5:14 this month, we come across these two verses:
"Because of this he is obligated to offer sacrifice for his own sins just as he does for those of the people. And no one takes this honor for himself, but only when called by God, just as Aaron was."
Hebrews 5:3-4
We read that the high priest (beginning with Aaron) was invited by name, by God, to lead the people to God Himself.
He had holy garments put on him, was anointed, and consecrated so he could serve the Lord as a priest (Exodus 40:13).
What an honor! In times of trouble and confusion, he was to be a light for the people, shining the presence of God.
Me, Too?
But it gets crazier . . . These also are messy days of trouble and confusion. Who is God calling to shine His presence into the dark places now?
You and me!
We are priests, too.
A royal priesthood (1 Peter 2:9)
Children of light (Ephesians 5:8)
City on a hill (Matthew 5:14)
As believers in Jesus we have been washed with water, clothed with righteousness, anointed with Jesus's blood, and set apart for His work so we can serve Him as a priest.
What are our opportunities? Like the priests of old, we are:
To shine brightly (Matthew 5:16),
To offer thanks to God for the good gifts He's given (Hebrews 13:15),
To point others to Jesus (Ephesians 3:9), the Highest Priest of all (Hebrews 7:27), who heals our pains and washes our sins.
Is becoming a priest an honor we bestow on ourselves? No. We have been invited to wear the Name, not self-appointed. We've been called by God to love our family, our friends, even our enemies. Not through our goodness, but through His grace.
We have been strategically positioned to answer the world's call for help.
When our lights shine, those around us can see clearer themselves, can feel more hopeful about their own lives, and can live more purposeful lives for the glory of the Father.
Priesthood of Honor
Being a priest isn't always easy. Such as getting up earlier when we're asked to.
I was reminded last Sunday that arriving at 8 a.m. was about more than singing practice. It was about being a true priest. Arriving early in the sanctuary, we could straighten up the chairs, clean paper off the floor, walk the aisles and pray for souls that would soon be seated there.
We were to prepare the place where God's people would be gathering.
Be a priest. It's an honor. And a responsibility.
But we've been chosen. Let's light up and go do it.
To Do This Week
Read by candlelight.
Light a candle to remember to shine as you read Hebrews 4:14-5:14.
Write it out.
If you're writing the text by hand this month (see Ali's suggestion), add in Hebrews 5:3-4.
Three Dark/Three Light.
Write down 3 dark places in your sphere of influence. Pray about 3 or more things you can do this week to bring the light of Jesus to those dark places. Write them brightly on top of and around the dark places.


Advance it.
Spread hope in your conversations and be a light in your actions this week!
More priestly material?
Check out this chart, "Old Testament Priests & Priesthood."
Do you feel like a priest? Where do you see hopelessness? Where would you most like to shine a light?  Please share your thoughts in the comments.