Offer your presence through prayer. You'll connect more with others and plug in to God's presence, too.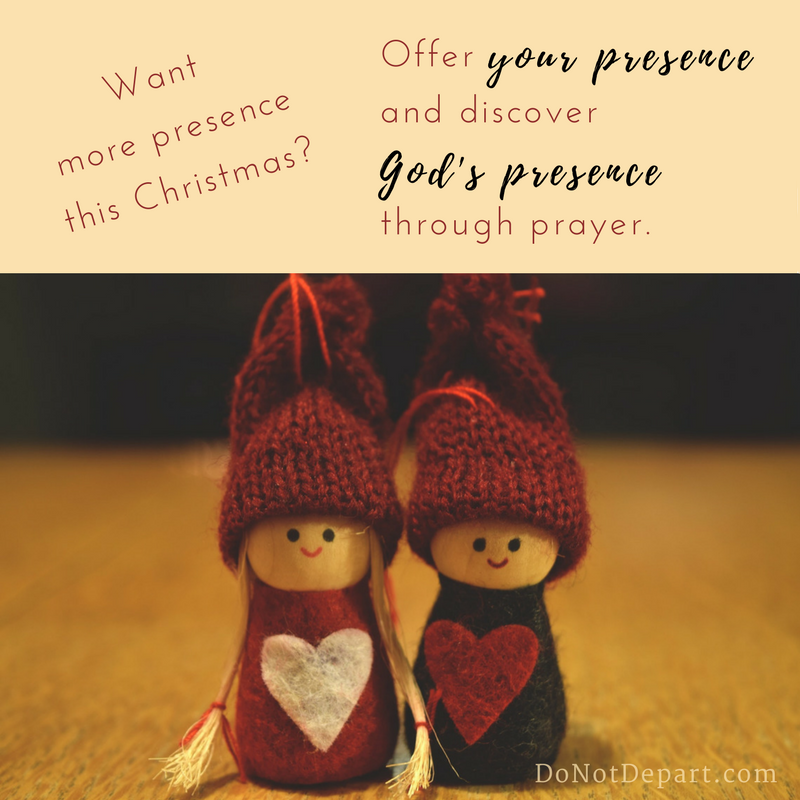 "Seek the LORD and his strength; seek his presence continually!"
1 Chronicles 16:11
Under the Surface
We walked together past the tables of free food, putting this or that in her cart, depending on what she needed. Small talk. Smiles. Casual friendship.
Until the car. We loaded her groceries in the trunk and I asked Betty how I could pray for her. This is the moment it usually happens. This is when people get real. Get personal. Get serious.
Tears bubbled up in Betty's eyes. And she told me about her daughter. She was back on the streets. Betty didn't know where. Her heart was breaking. She wanted prayers.
What do we want God to do? This question connects us to each other.
Whose Face Pops Up?
As we each prepare for Christmas, ironically we can get disconnected from God, from each other. The distractions, the lack of time, the lack of energy can break the very bonds that we want to strengthen.
There's not enough, we think.
But those very cords—the fraying ones with tattered ends that don't seem enough—are often the ones God uses to draw us in closer. Because of our needs, we pull together.
Close your eyes. Does a face pop up in your mind's vision? A name? Can you see the image of God stamped on this person, looking back at you?
When the grungy shepherds first came upon baby Jesus's face that night long ago, did they see God in His tiny eyes? When they praised God for this miracle, did they feel empowered? (Read Luke 2:8-20)
To reconnect with others and with God this Christmas, let's look for Jesus in every set of eyes we meet. His presence is everywhere we are.
Really see others these next few weeks. Listen to them. Talk with them. And when you can, ask what they need prayers for. When you find out their God-needs, you'll often find God Himself rising up in you to connect with them.
"The LORD is near to all who call on him, to all who call on him in truth."
Psalm 145:18
When we plug in more fully with others, we become more present to the power of God ourselves. The portion of God in them combines with the portion of God in us. His glory is reflected brighter through our unity. (Read John 17:21-23)
In His Presence
After Betty and I prayed together that Saturday morning, we were bonded. Even though I haven't seen her again, I think about her. And I think about her daughter.
I watch in my circles of ministry for a daughter who is distressed and who has a mom named Betty.
We never know how or when God will place people in our paths when we are praying for them.
Just as His presence is ever with us, He can put us in the presence of other people when we least expect it.
Use this guide to record whose presence you see this week. Write down names and scriptures as they come to mind. Pray for God's presence to be visible in their lives as He is in yours.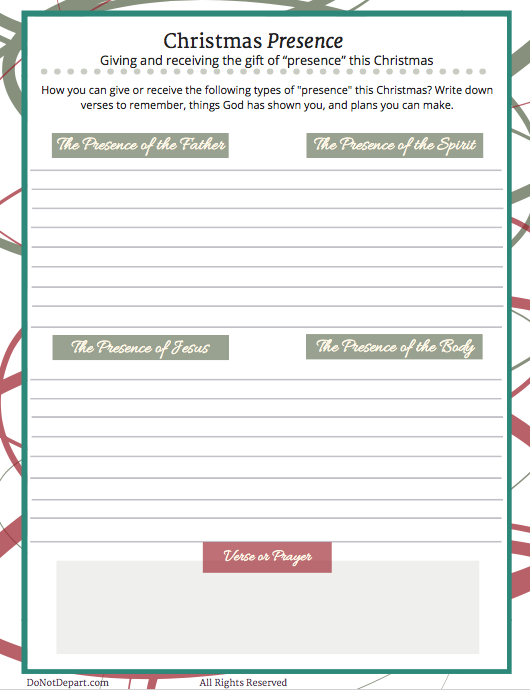 Additionally, you can print and give away these scriptures from our "A Verse a Day–Personalized Gift Version" article. Tuck these verses inside Christmas cards or on coffee counters or in waiting rooms to remind others that God has come.
And to remind others that God is still here. His presence is always a present.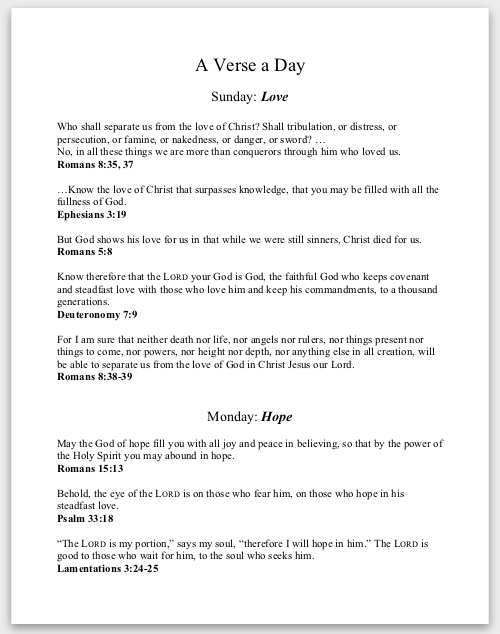 "Never stop praying, especially for others. Always pray by the power of the Spirit. Stay alert and keep praying for God's people."
Ephesians 6:18 (CEV)
Whose face is popping up in your mind? Do you know what to pray for them? Please share in the comments.