To say that gift giving is a big part of Christmas is an understatement, to say the least. Our modern culture is all about the holiday shopping season, and I must admit that buying Christmas presents is something I truly enjoy. Historically speaking, the giving of gifts during the month of December actually pre-dates Christmas itself. Slowly as Christmas traditions began to take shape, gift giving became a major holiday tradition. For many Christians, we give gifts in order to honor the gifts given to Jesus by the magi. We are also remembering the best gift of all, one that was given to all of mankind… the presence of our King and Savior.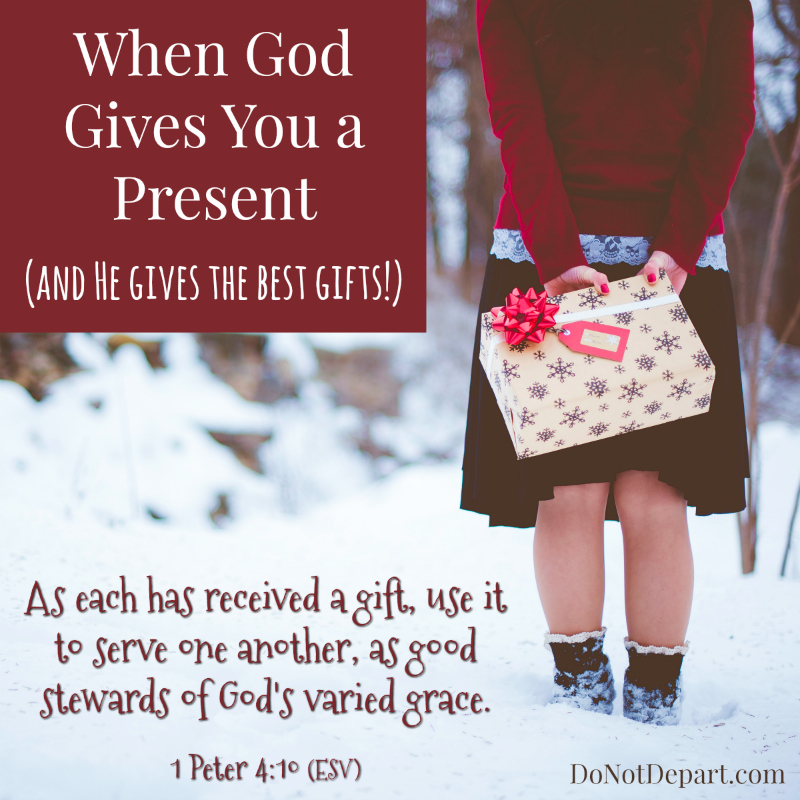 Have you ever received a personal present from God? I am talking about something in your life… something you've been praying for… that you knew was from God. Maybe it was something big like God meeting an important need in your life. Or perhaps it was a small, yet meaningful moment when God spoke to your heart. In these moments when God intervenes, we can feel His presence as well as His love in our lives. He cares deeply about even the little things we face on a daily basis.
Sometimes when God gives us gifts, they are personal and meant solely for us to enjoy. But more often than not, God's gifts are meant to be shared.
Show hospitality to one another without grumbling. As each has received a gift, use it to serve one another, as good stewards of God's varied grace: whoever speaks, as one who speaks oracles of God; whoever serves, as one who serves by the strength that God supplies—in order that in everything God may be glorified through Jesus Christ…. – 1 Peter 4:9-11 (ESV)
Show hospitality to one another without grumbling…
Christmas is all about giving and sharing with one another. We are given more opportunities to give of our time, resources, and finances during the holidays than any other time of the year. And as Christians, we are called to be hospitable. What I love most about this passage, however, is that it defines hospitality a bit differently than our culture would define it.
It's more than simply giving away resources to those in need. It's about sharing with others the gifts we've been given by God. And in doing so, we are sharing His love and His presence.
As each has received a gift…
God gives us gifts so that we can pass them on to others. Think about it this way: when you give something to someone that belongs to you, it's you who are glorified in that action. But when we give something away that was given to us by God, He is the One who is ultimately glorified.
Every present God gives is enveloped with His presence… so when we share His "presents" with others, we are also sharing His "presence."
Do you ever feel like you have nothing to give? I've been there. With the holiday season especially, it's easy to feel a bit spent. But never forget how richly you've been blessed! Even when you don't feel like you have something to give, you do.
Blessed be the God and Father of our Lord Jesus Christ, who has blessed us in Christ with every spiritual blessing in the heavenly places. – Ephesians 1:3 (ESV)
We have been blessed with "every spiritual blessing" in heaven. Let that sink in for a moment. Feelings aside, the truth is that you carry God's peace, His joy, and His supernatural strength with you every moment of every day. You simply need to make the choice to walk in it.
So when God gives you a present (and He has given you an abundance of presents!), share these gifts with all those around you. In doing so, you'll be spreading His presence to everyone you meet and glorifying Him this holiday season. And I can assure you also of this… you will personally experience His presence in a whole new way.