I love studying the book of Proverbs. It's so… practical. No other book of the Bible contains such everyday information regarding our lives. Yet at the same time, this book is profoundly deep. I could easily spend an entire day just meditating on one solitary verse. In today's post, we will take a look at chapters 10-12. In these verses written by Solomon, we find many contrasting images. You are either righteous or wicked, rich or poor, lazy or hardworking, wise or foolish, etc. While these chapters contain many different themes describing the difference between right and wrong, three themes, in particular, stood out to me as I studied.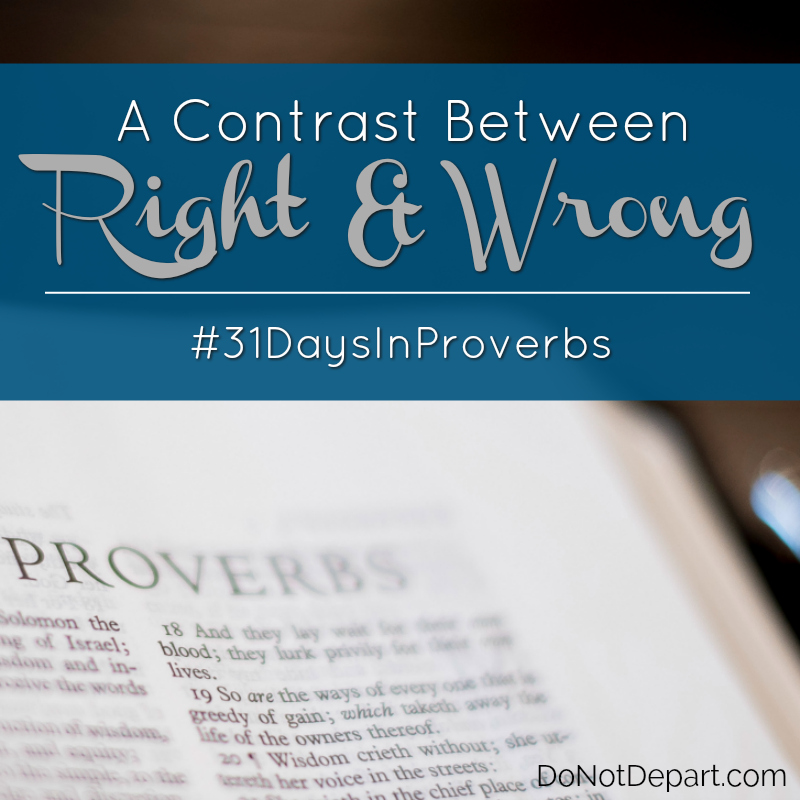 Worth ethic and integrity matter… Solomon speaks often here in these chapters about the importance of hard work and integrity. Laziness is definitely not of God, and it will yield you no reward. Integrity is equally important. I love the first verse of chapter 11 where we are told that a "just weight" is God's delight.
A slack hand causes poverty, but the hand of the diligent makes rich. – Proverbs 10:4
Whoever walks in integrity walks securely, but he who makes his ways crooked will be found out. – Proverbs 10:9
A false balance is an abomination to the Lord, but a just weight is his delight. – Proverbs 11:1
The importance of our words… Taming the tongue is no small feat. In fact, James 3:8 tells us that "no human being can tame the tongue." It's a good thing we have the Holy Spirit living within us! Through His power and strength, our words can become a source of healing and encouragement to the world around us.
Whoever belittles his neighbor lacks sense, but a man of understanding remains silent. – Proverbs 11:12
There is one whose rash words are like sword thrusts, but the tongue of the wise brings healing. – Proverbs 12:18
Anxiety in a man's heart weighs him down, but a good word makes him glad. – Proverbs 12:25
A matter of life or death… Apart from righteousness, we are doomed to perish. But true righteousness isn't granted because of our behavior. It is through faith alone that we are declared righteous by God. (Hebrews 11)  In Christ, we are born again. And in Him, we have righteousness and eternal life. 
Riches do not profit in the day of wrath, but righteousness delivers from death. – Proverbs 11:4
Whoever is steadfast in righteousness will live, but he who pursues evil will die. – Proverbs 11:19
In the path of righteousness is life, and in its pathway there is no death. – Proverbs 12:28
These verses are far more than wise sayings. They speak truth and wisdom to our everyday lives. Solomon was given his wisdom by God, and we can trust these words to be true because they were inspired by the Holy Spirit.
What I love most about these passages is that they are direct and straight to the point. They never try to sugar coat the truth. The very first verse of chapter 12 even tells us that "he who hates reproof is stupid." (Solomon was certainly not one to be subtle!)
While a lot of these verses may seem like common sense, the truth is that living in wisdom can be difficult. Applying these verses and taking them to heart is something we must learn to do on a daily basis. But we are not on our own!
The Holy Spirit, the one God sent to comfort and to guide, lives within us. Following His lead will always lead to wise living.
What themes stood out the most to you this week as you read through chapters 10-12? Ask the Holy Spirit to help you as you apply these words of wisdom to your life.
Be sure to join the conversation on our community Facebook group!
Our series so far: