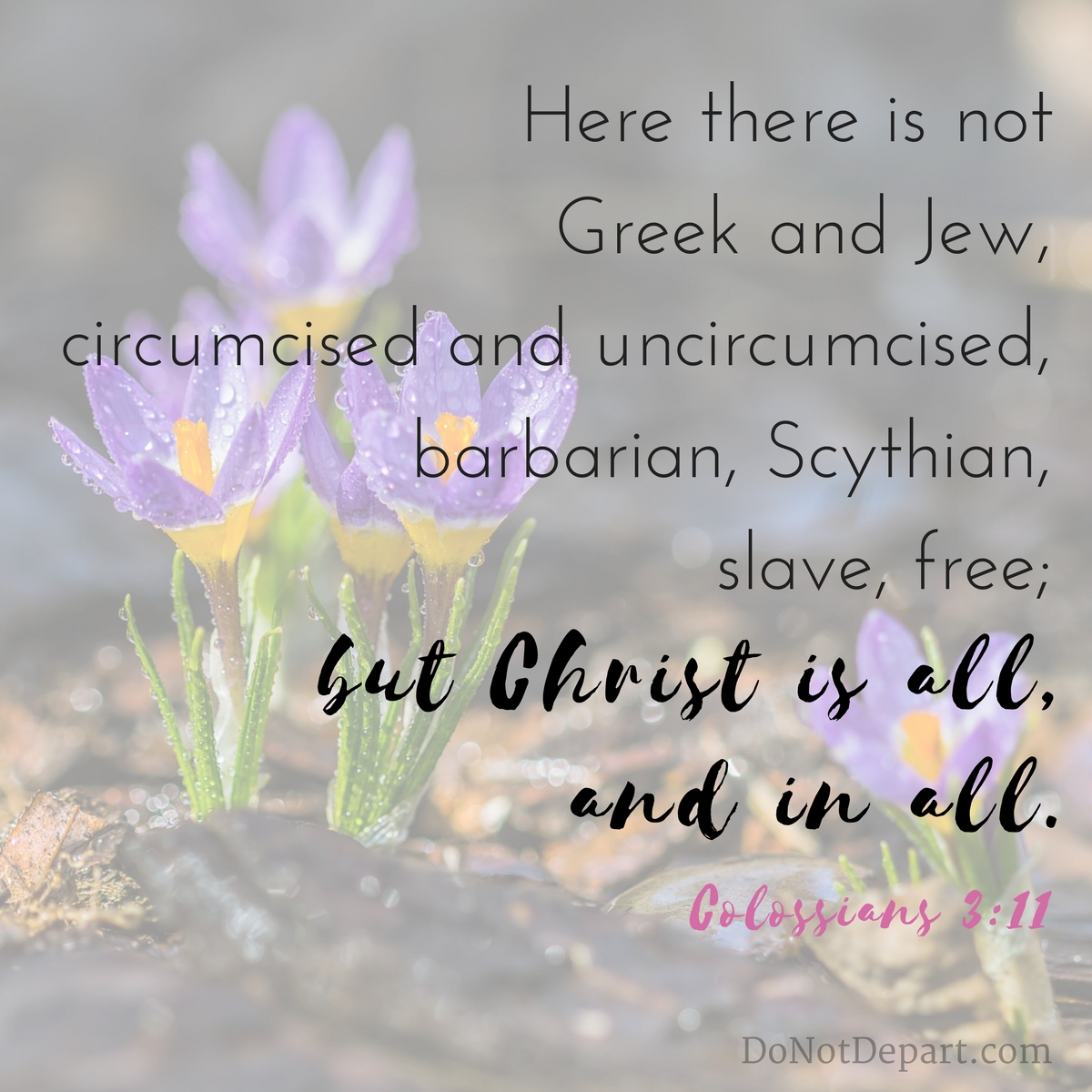 Memorize this week:
Group A
11 Here there is not Greek and Jew, circumcised and uncircumcised, barbarian, Scythian, slave, free; but Christ is all, and in all.

Group B
12 Put on then, as God's chosen ones, holy and beloved, compassionate hearts, kindness, humility, meekness, and patience.
We only have one verse this week (and only six verses to go for Group A!). So let's lean in and learn this.
We have four sets of categories here, flipping into one beautiful truth. While memorizing the categories may seem difficult at first glance, a closer look can help us understand not only the history behind the words, but also discover the relevance to our own lives.
1
 – 

Greek and Jew
Back Then
The Jews were God's original "chosen people." The vast majority of the early church was made up of Jews. The term "Greeks" here was generally considered everybody else who wasn't a Jew, i.e., Gentiles.
Today
Sometimes we artificially divide up the "lifers" (those who "grew up in church") from the newcomers. Paul was saying let go of that gap in identity.
2 – Circumcised and Uncircumcised
Back Then
Jewish male believers were required to undergo this ritual of circumsion. It was a clear-cut physical sign of who was a Jew and who wasn't.
Today
While we don't have any comparable physical sign today for followers of Jesus, sometimes we create our own: Do you have a church membership? When was your water baptism? Do you wear Christian-themed t-shirts or display Christian bumper stickers on your car? Paul said there are no more physical signs like these.
3 – Barbarian and Scythian
Back Then
If you didn't know the Greek language back in Paul's time, the Greeks considered you a Barbarian, one who spoke a foreign language. Scythians were from the north of the Black and Caspian Seas. Almost synonymous with barbarians, Scythians were also considered a wild and uncivilized people.
Today
Do you speak fluent "Christianese"? Too often we judge those who don't know "our" language. We judge those whose ways seem too crazy (or too stoic) compared to ours. Again, Paul says no. Everyone is considered the same in Christ.
4
 – 

Slave and Free
Back Then
Some estimate that as many as 2/3 of the Roman empire were slaves. While conditions varied compared to what we think of as slavery in modern history, slavery was and is a subservient and unwanted position.
Today
If we broaden our definition of slavery, we can identify many modern prisons, with or without physical chains: addictions, poverty, subjugation, restraints, struggles. Paul said we aren't to evaluate someone's spiritual status by their presence or absence of shackles.
Ultimate Group – Christ in All
Our identity instead is in one person alone: Christ.
"Christ is all and in all"
As you memorize this week, think about how you may categorize people in your own relationships, about how you might categorize yourself.
Then remember instead that we're all one in Christ.
And thank God for it.