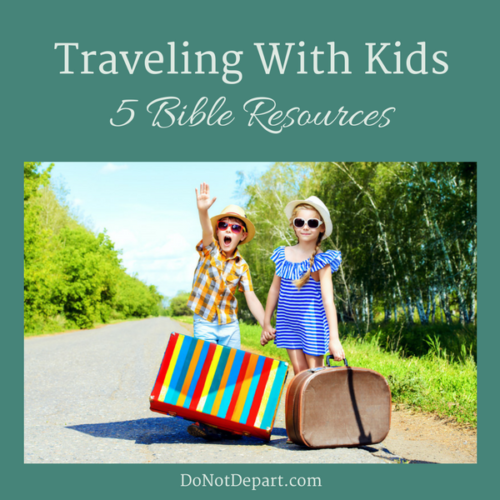 Are you traveling with your children this summer? As I write I am sitting in my aunt's easy chair in Rhode Island, 2000 miles from our home in Texas. Our family just loves to hit the road! Seeing the beautiful sites, learning the history of our country, singing our heads off in the car, hugging family and friends we haven't seen for years… we are making memories together that will last a lifetime.
Long drives in the car and unusual experiences are often catalysts for meaningful theological conversations with my children. These are the sorts of discussions that just pop up organically. You may also want to plan a little for keeping God's Word part of your journey. Here are five resources to help you think through what might work for your family.
1. Do a Family Travel Devotional Together
Get the conversation going each morning! Our 7 day family devotional guide focuses on biblical journeys, and includes questions for family discussion. Print it out before you leave, or just read it out loud from your mobile device.
2. Play Bible Games
While you are driving along, play some fun games together to pass the time. Check out my travel game and activity suggestions here, or these six games from Ministry to Children.
3. Print Out Travel Scripture Cards
Keep the compass of your heart pointing toward your forever home! Tuck these printable scripture verses about travel in your bag for when everyone needs a little reminder of God's protection and direction.
4. Download Some New Apps for the Drive
I limit screen time for my kids even when we are on the road, but for those really long driving days, I do let them have some extra time on devices. Here are a few apps to consider:
You can also check out this comprehensive list rating 25 of the best Christian apps.
5. Pack Our Family Vacation Faith Journal
Keep track of God's hand on your journey with our family vacation faith journal. Print it out ahead of time and fill it out together as you travel. This is a great activity to do while waiting for meals to arrive at restaurants, or at the end of the day as everyone is winding down at the hotel or campground.
Enjoy the precious days of travel with your children. Take lots of pictures! These are special times that you will all remember for years to come.