Winter can be a hard season. For me, it's tough because my body doesn't handle the cold very well, my mind doesn't like the dark, long days, and our family celebrates mourns the short life and loss of our tiny, sweet daughter. Tough.
Though I don't particularly care for winter, I still find great joy in December because I love Christmas!
Whether or not our Savior was actually born in December, Christmas is the bright, shining star in a dark, dreary season. It's the promise of growth and life eternal in the atmosphere of death and stillness and waiting. It's the sweetness in the bitter bite of cold and the joyful signing of angelic voices into black, silent night.
Christmas is those things, because Christ is the light of the world! And the Everlasting Son promises life and joy to all who confess Him as risen Lord.
The celebration of our Savior's birth floods our hearts with that light, life, and sweet joy!
Though the world around us so often forgets Him, we can enter shops at Christmastime and hear songs that proclaim His coming, His love, and other Biblical truths. Praise God! (Let's pray that it will always be so.)
There's still Christ in the Carols.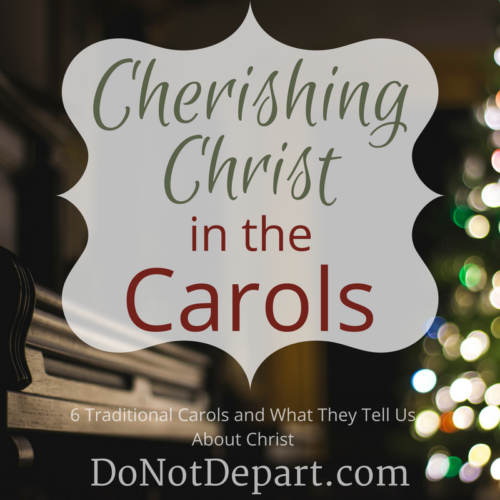 What Do Traditional Christmas Carols Tell Us About Christ?
This month at DoNotDepart, we have a precious series planned for you. We'll be taking a close look at some traditional Christmas carols and focusing on what they say about Jesus. We will linger over lyrics and cherish Christ together. We hope our posts leave you with a song of praise on your lips and joy bubbling in your heart.
Together, let's celebrate His coming and praise His name! Let's cherish Christ- in the carols, during Christmas, and always!
What's your favorite Christmas Carol? Share with us in the comments, on Facebook, or Twitter. Use hashtag #ChristInTheCarols