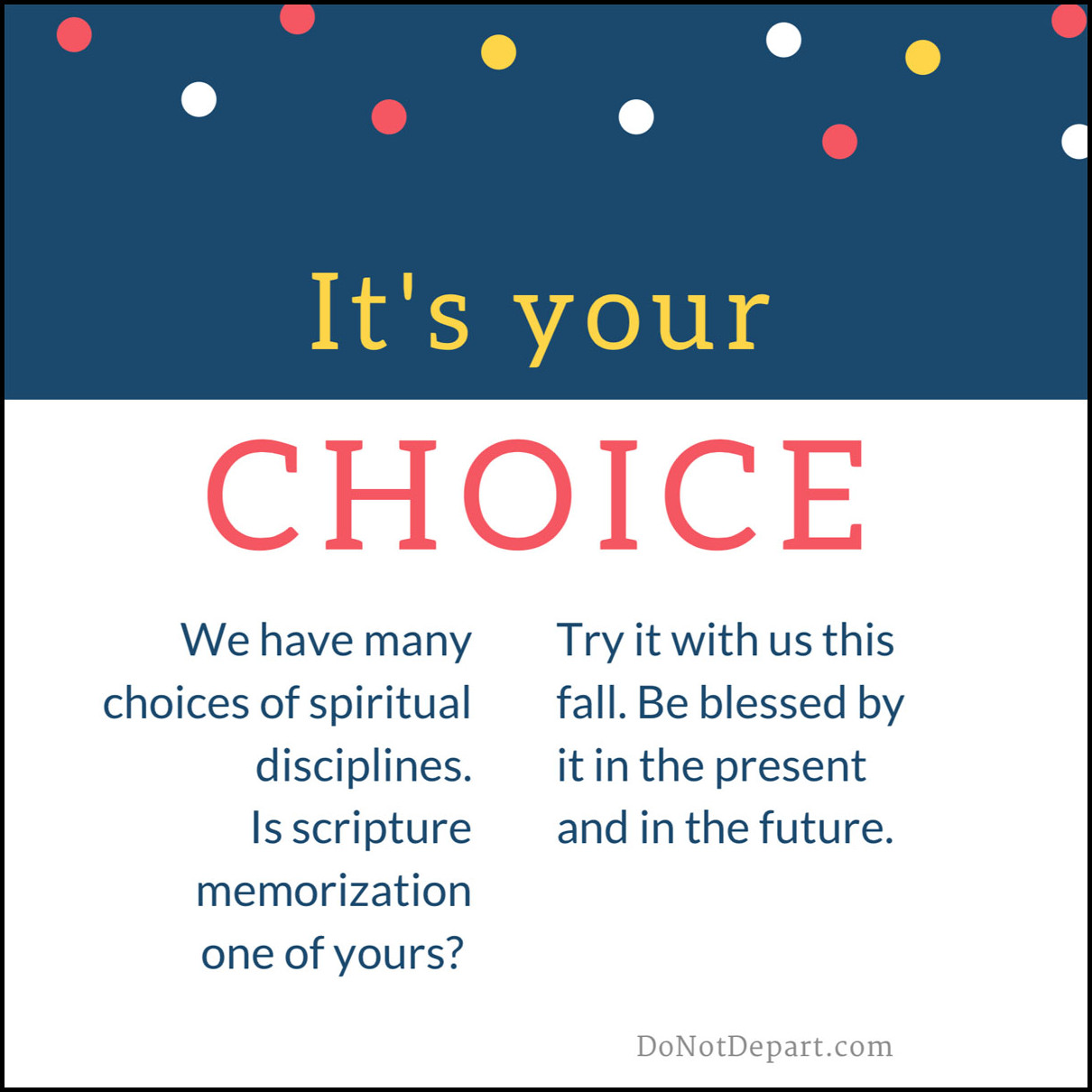 Determine Your Choices
We're going to be talking about choices a lot in the upcoming weeks.
Once we make the big decision to follow Jesus, we still have smaller decisions to make our entire lives.
Some of those decisions are strongly determined by:
Where we are (such as, choice of available churches)
What we're called to do (such as, choice of jobs)
Who we're with (such as, choice of relationships).
But other decisions are determined by:
How God made us (such as, choice of spiritual disciplines).
God designed some of us to love a crowd, while others prefer a table for two. Some prefer quiet times at 5am; others burn the midnight oil with young seekers.
Some grow through the spiritual discipline of fasting. And some grow by memorizing holy words.
I'm not saying we wouldn't all benefit by having more of God's words memorized in our hearts. His words bless whoever holds them.
But certain spiritual disciplines reach us more than others do.
Discipline of Scripture Memorization
Is scripture memorization a discipline that reaches you? It does me.
That doesn't mean it comes easily to me. I don't have a great memory. I don't have a lot of patience to recite the same thing over and over.
But I've discovered this:
If I spend just a few minutes today reminding myself of the same truths I rehearsed yesterday, I am blessed.
Blessed in the moment:
Jesus is the Living Word and His presence is with us as we're learning words with Him, being trained by Him, and soaking in His love.
Blessed in the future:
God's word never returns void. Verses we memorize today will come back to us tomorrow at times when we need them most.
Maybe you've tried scripture memorization in the past. It wasn't your thing. That's okay. There are many spiritual disciplines that can nurture our relationships with the Lord.
Your Invitation to Memorize
But if it's been awhile since you've tried memorizing—or if you've never tried at all—we invite you to join us for a simple, no-pressure challenge. Registration is open now; memorization begins September 25.
The ten verses we'll be repeating to ourselves and each other are reminders that we have choices.
And that our choices matter.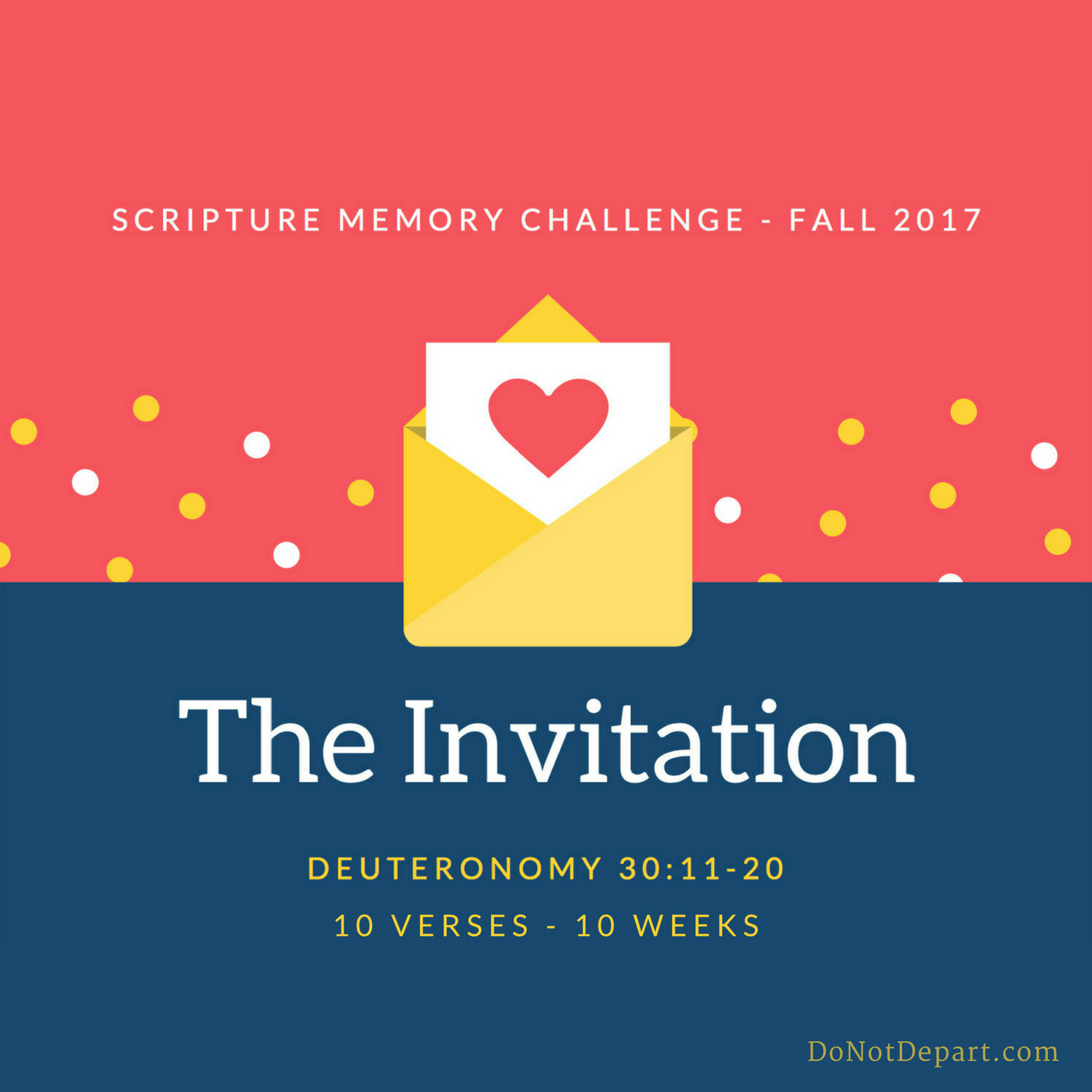 As we said here, you're not a good person if you choose to memorize and a bad one if you don't. God doesn't work that way.
But if you've been looking for an opportunity to memorize again, or to try it as something new in your Christian walk, give this a try.
Bible Study – The Context
Bible study (another spiritual discipline) is a beneficial addition to scripture memorization.
Fill out Ali's downloadable worksheet this week on context. Answer one question per day for five days.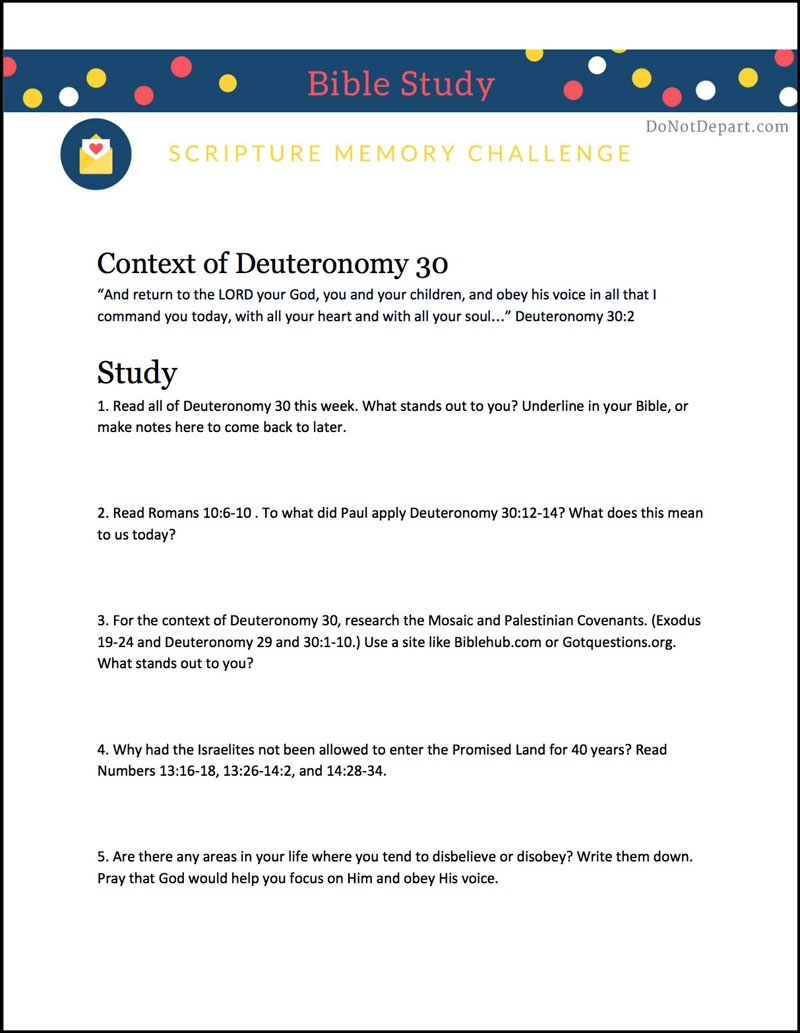 It will provide a great foundation for your season in Deuteronomy 30.
The time it takes is short, but the rewards will be long.
You choose.

What stands out to you in Deuteronomy 30?
Where do you see Jesus in Deuteronomy 30 via the apostle Paul's words in Romans 10:6-10?
Which spiritual disciplines come naturally to you? Which don't?