It is easy to let the busy-ness of December distract from the real purpose of Christmas. Helping your children be intentional can require some planning. Right now is a good time to be thinking and planning for how you can keep Christ in focus for your family during the quickly approaching Christmas season!
I recently discovered a rich resource for families, designed to be used for the month of December, that helps keep attention where it should be.
"More Than a Holiday," by Scott and Sarah Nichols, is a 25 day devotional for families. Each day focuses on a different topic. The various characters and elements of the Christmas story are among the topics, as well as some major theological issues, such as prophecy, truth and sin nature.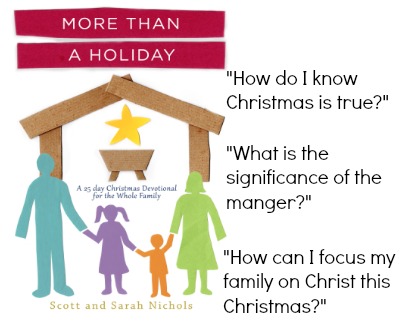 Every chapter includes at least one suggestion for each of these six categories:
A Closer Look – designed for parents, this section explains the historical context and theological significance for that day's scripture
Daily Reading – scripture reading to be read aloud as a family
Daily Devotion – read together after the scripture
Let's Talk – discussion questions
Prayer – a simple prayer related to the day's topic
Family Time Activities – a number of options are usually given; these might be games, crafts, books to read together, a skit, or a meaningful activity
I like the fact that More Than A Holiday gives you a range of options. This makes it flexible enough to be adapted to families with children of different ages.
It is simple enough to use with preschool children, if you opt to focus most heavily on family activities. And if you have older children you can incorporate more discussion of theology. We are planning to use this as our family devotional this year, and because our oldest is 17, we will be reading the "A Closer Look" section aloud in addition to the scripture and devotion.
I am really impressed with the depth of the "A Closer Look" section. The authors provide a fascinating underpinning for parents and older children, with extensive discussion of scripture, theology, history and culture. The reference section for the footnotes is seven pages long!
If your family needs a shorter devotional, the authors have created alternate schedules you can follow. You can find 7 day, 10 day and 14 day reading options here.
Start planning now to help your family stay focused on Jesus during the Christmas Season!
What are your favorite family devotionals?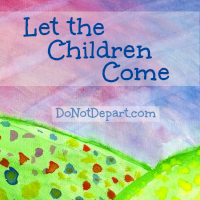 Disclosure: I received a free copy of More Than a Holiday in exchange for my honest review.