Do you ever feel like a hamster in a running wheel? Round and round you go with the same old habits, the same stinkin' thinkin'. You wonder how you will ever get off.
You wonder if you will ever shake a sense of defeat.
I have my own entrenched habits that I often vow to overcome. I will never eat sugar again! No complaint shall ever pass these lips! Some days I'll do well. Most days? Not so much.
I love to make big plans… do you? I sit with my pencil and paper and scratch out lists and schedules and create a world of perfection. A world where I never do wrong and everything goes according to plan.
Then I put the paper down and life seems to go along as it always has.
Yet as I look back over the past few decades, I barely recognize the woman I was twenty years ago. How is this possible?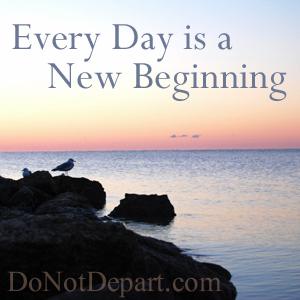 Real change has always come for me in the small. It has come in the moments of one choice – do I speak my frustration or keep my mouth closed right now? Do I hit snooze or drag myself out of bed and read my bible? Do I believe what God's Word says about me in this moment or do I believe the enemy's accusations?
The steadfast love of the LORD never ceases; his mercies never come to an end; they are new every morning; great is your faithfulness. Lamentations 3:22-23
Each day is a new opportunity to make decisions that honor God. His love for you is so great – He lavishes it on you with His continual mercy and forgiveness.
It is not always easy to make those small decisions that lead to godly change, but you have an advocate! Jesus Christ, who knew all the temptations of man…
But if anyone does sin, we have an advocate with the Father, Jesus Christ the righteous. 1 John 2:1

For we do not have a high priest who is unable to sympathize with our weaknesses, but one who in every respect has been tempted as we are, yet without sin. Hebrews 4:15
Do you feel defeated in some area of your life? Take heart. God is not looking for perfection… He knows you can't deliver on that.
But progress, yes indeed, that is possible. You can head in the right direction. Every little choice you make that honors God makes a difference. Every time you speak lovingly to your kids when you feel like yelling, every time you stay silent instead of complaining, every time you choose God's way instead of your own – it is a new beginning.
Today is a new beginning! Be refreshed in His love and mercy!