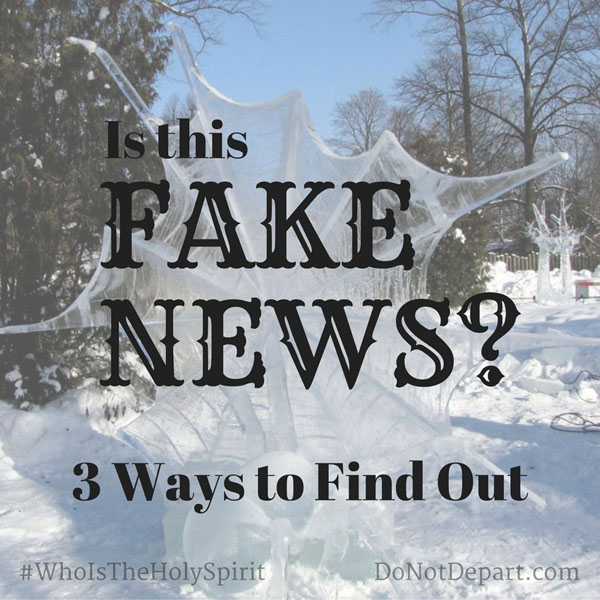 ---
We sat in a circle for the second week in a row. We ladies were still getting acquainted in our new Bible study group. The ice-breaker game began: Tell two truths about yourself and one lie. See who can figure out which is which.
I said these three statements about me:
I eat two cookies almost every day.
I'm the third of ten siblings (3 girls and 7 boys).
I survived a hurricane on my honeymoon.
What Is Fake? What Is Real?
Sometimes it's hard to tell the truth from a lie. It's always been that way (ask Adam and Eve).
But in this age of social media, internet news, and photoshopped pictures, it is increasingly hard. And for the younger crowd, the ability to distinguish fact from fiction declines even more (see this study of students who can't distinguish true from fake news).
But fake news doesn't come at you only about current events and politics.
Fake news also tells you lies about yourself.
You're not good enough
You're not smart enough
You're not pretty enough
And fake news wants you to believe the biggest lie of all:
God could never love someone like you.
How to Disprove Fake News
But the truth is that God not only can love someone exactly like you, God does love you, exactly as you are.
How can you know that this isn't another piece of fake news?
Find a Witness
Because God gives you a first-hand witness.
As we study the Holy Spirit this month, one aspect of the Spirit that we often overlook is His role as a witness.
A witness is someone who testifies and gives evidence. He affirms what he has seen or heard or experienced.
What has the Spirit seen and heard? That we are indeed God's children (Romans 8:16).
And where did the Spirit learn that? From God Himself. The Spirit knows the very thoughts of God (1 Corinthians 2:10-11).
Consider Your Sources
You can also back up this truth of God's love by fact-checking. Talk to other believers who are witnesses with the Holy Spirit. Jesus said those who walked with Him then would also bear witness (John 15:27). But you likely know many who walk with Him now. Let them also bear witness to you about His genuine love.
Count Your Personal Experience
Another way to disprove fake news is to appropriately evaluate your own experiences. As a follower of Christ, you have received the Spirit Himself to help you grasp His love (1 Corinthians 2:12). Practice an intentional awareness of His presence with you. The Spirit is an internal witness who can affirm that you are truly cherished by your Creator.
The Truth Sets You Free
When you believe the Spirit's testimony, you will better understand that you are never alone or unloved. You always have company wherever you go. The Spirit has been given to you as a gift of God's presence (Romans 5:5).
The Spirit's presence also gives you peace (John 14:26-27) and ultimate freedom (2 Corinthians 3:17-18).
The Spirit is the one who testifies that you have eternal life (1 John 5:6 and 1 John 5:11).
The Spirit is truth. He is credible. You can rely on Him to be an honest witness.
Of my three statements above, do you know which two are true and which one is false?
Unfortunately, I do eat cookies (or something sweet) most every day. And thankfully, I did survive Hurricane Iniki in Hawaii at the end of my honeymoon (imagine a "romantic" four days on an island with no water, no electricity, no A/C, no clean clothes).
But I am not the third of ten siblings; I'm only the third of four. My family isn't that large.
Or is it?
As a chosen daughter in God's family, my siblings actually number more than the stars in the sky and grains of sand on the beach. The Spirit is my witness that I am surrounded by love.
That is true and good news!
How do you debunk fake news? Who has been a witness in your life of the true news of God's love? Please share in the comments.
Read more in our series: