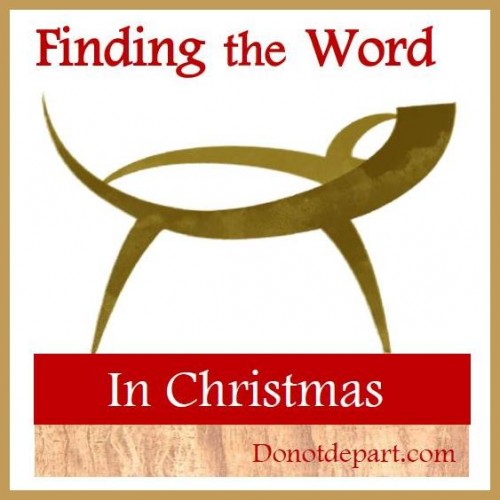 This weekend we welcomed December, and already there's competition for what to include in our celebrations.Will the Word of God be found in your Christmas displays and decorations, your gifts and your gatherings?
Many of us find a heap of holiday events, tasks, traditions and pressures piled on the manger, making it hard to find Jesus there at all! Some of what covers up the Savior may be good, making it all the more difficult to give Jesus the place He deserves.  As the birth of Jesus takes center stage, we rejoice in knowing that' "the Word became flesh and dwelt among us, and we have seen his glory, glory as of the only Son from the Father, full of grace and truth" (John 1:14). The story of Christmas is that of the Word with us, so what better way to honor His coming than to weave that story throughout this season of joy?
The ultimate Word of God, His Son, speaks volumes to us of His great love and of the lengths He would go so we can walk with Him. "Long ago, at many times and in many ways, God spoke to our fathers by the prophets, but in these last days he has spoken to us by his Son, whom he appointed the heir of all things, through whom also he created the world" (Hebrews 1:1-2). We're so thankful for you, our readers, walking with us in the Word so as not to depart from it.
Join us this December as we share tools with you to wrap God's Word throughout your Christmas season. Like a garland on a tree, we'll share tips and ideas for how to naturally incorporate God's Word in your activities and accessories. The Do Not Depart team wants to help you find the Word in Christmas!
Do you have a favorite way of weaving the story of the Word into your celebration?