With so much focus on gift-buying, special events and the many other distractions filling December, even faithful believers can struggle to keep their focus on the reason we celebrate Christmas.
Children are especially caught up by these distractions. The glittery appeal of endless colorful boxes under the tree can give rise to a greed and focus that can be alarming to a mother!
When our oldest was a toddler, I realized how confusing Christmas must be to a little person. I would refer to Christmas as Jesus' birthday, but unlike every other birthday we'd celebrate, on this birthday the focus seemed to be on giving gifts to everyone but the birthday boy!
Host a Birthday Party for Jesus
We have done a number of things in our own family to refocus our attention on Jesus at this time, and in the past several years we have also been throwing a birthday party for Jesus!
This is a great outreach opportunity. Hold the party in your home and invite the neighborhood kids. Or have it at church and reach out to the children who live in the area. You can make it a joint effort between multiple families and share the responsibilities.
Birthday parties usually have three components: activities, gifts and food. You can weave scripture in and throughout your celebration in all of these areas.
Activities at Jesus' Birthday Party
In the sixth month the angel Gabriel was sent from God to a city of Galilee named Nazareth, to a virgin betrothed to a man whose name was Joseph, of the house of David. And the virgin's name was Mary. Luke 1:21-22
Put on a play
We usually start out our birthday party with a nativity play. This can be as simple or as elaborate as you want it to be. One year our daughter wrote up a whole play, complete with original musical numbers, and practiced for days with her friends!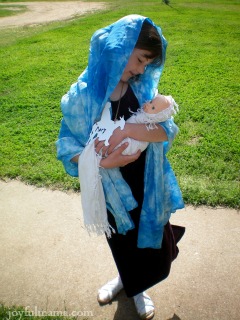 A far simpler option is to read the story of Jesus' birth right from your bible, and have the children act it out as you do. You will find the narrative in Luke 1:26-2:20.
Provide simple costumes. You may find that the children get so excited about this you end up reading through the story multiple times, so that everyone has a chance to participate. More Word of God falling on little ears is a wonderful thing to say yes to!
Sing
We usually incorporate singing into the play, but you could also do it at a separate time. "Angels We have Heard on High" and "Silent Night" work well with the story and are widely known. You might want to print lyrics for the grown ups and older children.
Make crafts
There are countless Christian Christmas craft ideas online! Choose crafts that incorporate scripture. Or show how the craft symbolizes an important scriptural truth by making little signs with the related scripture to put on the craft table. My gifted friend Becky brought these one year: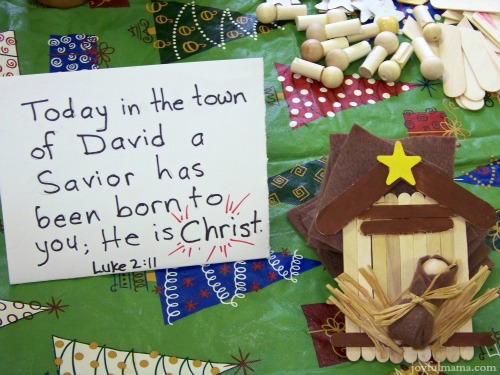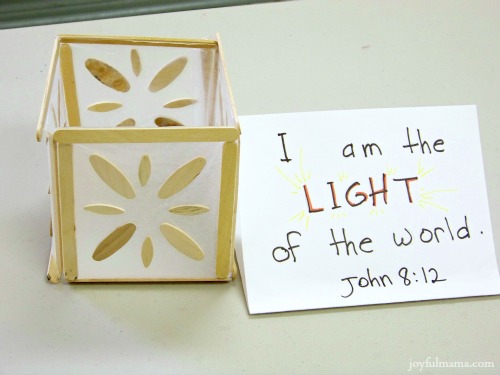 Gifts at Jesus' Birthday Party
Truly, I say to you, as you did it to one of the least of these my brothers, you did it to me. – Matthew 25:40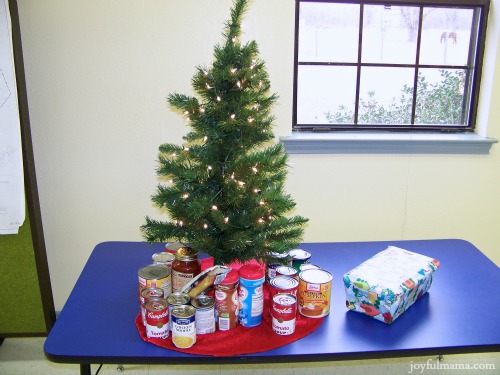 I like to take a two-fold approach to gifts at Jesus' birthday party – heart gifts and physical gifts.
Heart Gifts
Set up a small tabletop Christmas tree. Underneath place a wrapped box with a slit cut in the top, or a shoebox with the lid wrapped separately. Put slips of paper next to the box, along with pencils or crayons. Each child can come up to the tree, write down things they have done for Jesus recently, and slip the paper in the box. It is helpful to have an adult nearby to help with this, as not all children are comfortable writers.
If the children have trouble thinking of something, ask them "How did you show love to someone?" and remind them that when we do things for others, we are also doing them for Jesus (Matthew 25:40). Sharing, doing someone else's chore, speaking encouraging words, obeying, giving hugs… these are all ways that children honor Jesus.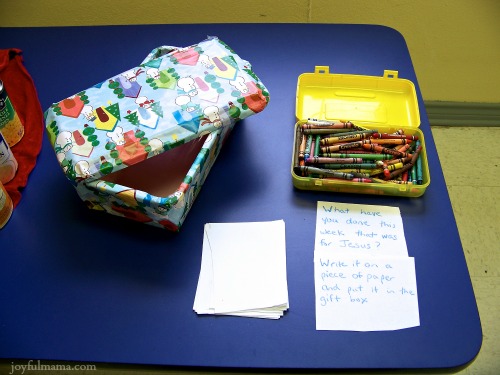 Physical Gifts
When we invite the children, we ask them to bring toiletries or non-perishable food to the party. Afterwards we bring the donations to our local food pantry.
You could also ask the children to bring baby items (diapers are always needed) that later you bring to a women's shelter or pregnancy resource center
Food at Jesus' Birthday Party
 So, whether you eat or drink, or whatever you do, do all to the glory of God. 1 Corinthians 10:31
We do allow our children to celebrate and eat special treats, but the fact is that little bodies do better if they are able to get a something nourishing in them before they get filled with sugar. To that end, set out a table of fruits, veggies, cheese and crackers. You can also provide lunch if you hold the party in the middle of the day.
Of course no birthday party is complete without birthday cake!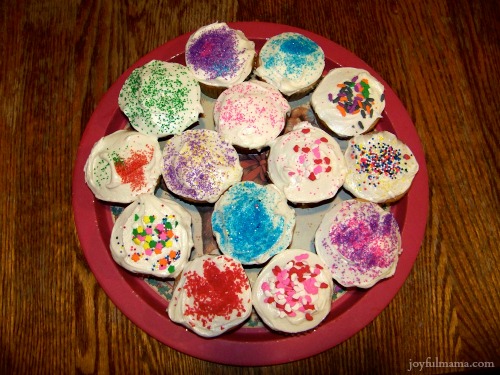 We usually just make a simple cake or cupcakes. You could also provide plain cupcakes, frosting and decorations and allow the children to decorate their own at the party.
If you want to be more elaborate, you can create a cake that has Christian symbolism. Mary Rice Hopkins and Leslie Ratliffe created instructions for a special Jesus Birthday Cake that includes scripture readings.
We all sing a loud happy birthday to Jesus, but we don't use candles. It's safer and simpler to avoid candles with a large crowd of little children who all want to be the one to blow them out!
Live the Joy of the Lord!
As we try to keep our focus on Jesus this December, and help our children to do so as well, let's also keep our hearts light and have fun celebrating the amazing gift we have been given! Little eyes and ears are watching!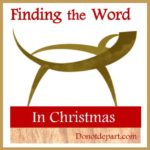 Our readers have wonderful ideas! Please share your suggestions for keeping kids' hearts focused on Jesus and His Word as we anticipate Christmas! Leave a comment here.