Katie here. I've hacked into Caroline's post to make a special announcement and request! Caroline just had her second child—a sweet baby girl! 

Sweet big brother, holding sissy's hand.

Will you join with me, and pray for their family today? Just leave a comment below, of blessing over these early, wonderful, sleep-deprived months! 

And now, Caroline's post…
There's nothing like having a son in the hospital to see how little is in my control… and to see the powerful truth and amazing nature of the words "God willing."
The words "God willing" hold outstanding power and meaning, but sometimes fit with many Christian phrases ("Christian-ese," if you will) that tend to be overused and misunderstood:
"Bless her heart" becomes a phrase of pity rather than a true request for God's blessing.
"Amen to that" shares simple agreement (I do this, too!) rather than "verily" or "so be it" – an acceptance of what is given regardless of consequence (*see source below).
And then there's "God willing."
These phrases, when used well and correctly, share His love and grace powerfully.
God Willing, God Permitting
God has been teaching me the true meaning of these two strong words, "God willing," lately.
Not meaning "to get what I want."
Not meaning "perhaps if I plead with these words, what I desire will come true."
Instead, meaning God permitting. God allowing what He knows best, not what we see as right or needed.
Hebrews 6:1-12 discusses God permitting further knowledge in this faith. (See a parallel reference of the NLT and ESV here.) The use of "God willing" here shows dependence on God for growth.
Acts 18:20-22 shows Paul relying on God to will His journey as God sees fit (Parallel source). Paul certainly possesses his own desires to see certain people at certain times (Romans 1:8-17) – and for good reasons in the ministry – but still knows even his path of spreading the gospel is directed by God's purposes, not his own. (Paul exemplifies how God uses our desires and passions for His will and purposes in Romans 15:17-22.)
Decretive and Perceptive Will
A distinction exists between what God wills for Himself to accomplish and what He wills—in orders and commands—for us to accomplish. What He wills He will do. His "decretive will" (as the New Bible Commentary
 labels it) actually happens, no doubt. What He wills us to do (love others, follows His ways – "perceptive will"), He graciously allows us the choice of obedience, which I so often fail to complete. (**See source below.)
The New Bible Dictionary
 says, "God's will is not arbitrary, but acts in complete harmony with his character." What God wills is not determined on a whim, but instead on His supreme intelligence (Isaiah 55:8-9), which comes from a heart of love (1 John 4:7-12).
We know because of His Word and His heart that God wills good things to those who seek to serve Him (Psalm 34:10).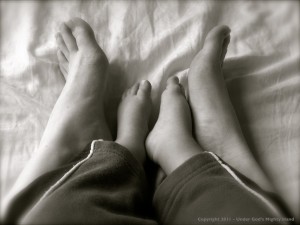 As my husband and I continue to discover more about our son's medical needs, we wish, we pray, and we ache for whole healing and deliverance from these troubles. But, I tend to want to over-control. And God is showing me: it's His will, not mine. There were times in the hospital that I had no control over what happened to my son. So, what were my choices? I can worry incessantly or I can trust the God I know to be loving, even if events we endured as a family were not what we would want.
What God Wills
Perhaps I'll know sometime in this life why He chooses certain things for our family. Perhaps I won't. But, I do know that God wills what is ultimately good.
Though we may not always understand why certain events occur in our lives, we can trust God loves and provides what we need to live our lives spreading His love.
How do you understand and accept God's will? How have you seen in your life that God's will is ultimate and ultimately good?
Sources:
– *New Bible Dictionary, p. 29 – "Amen" is also described as the "promises of God, uniquely fulfilled in [Christ]."
– **New Bible Dictionary – pg. 419