Disclosure: Affiliate links are present in this post. Please see the Bookstore page for full disclosure details.
If you are convinced of the importance of prayer you may already have strategies for making prayer a more regular part of your daily life.
But perhaps you still need ideas for ways to incorporate prayer into the ebb and flow of each day. Having a plan can help you develop the habit of praying regularly.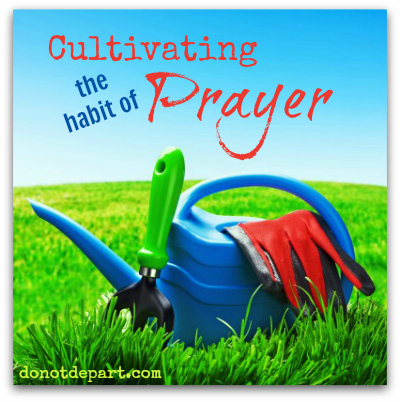 Associate prayer with an activity
If you associate prayer with something else you do regularly, you may find it easier to remember to do, and soon you will develop a habit.
pray as soon as you wake up
pray before meals
pray while folding the laundry
pray while riding the bus
pray while walking or jogging
pray in the shower
pray while washing dishes
pray as you are falling asleep
Use a prayer calendar
Weekly or monthly prayer calendars can help you remember to pray consistently for certain things. You can create your own, or find one online.
Pick up a topical book about prayer
There are many books on prayer in general, but for developing a habit of praying, you might find helpful one of these books with specific topics and scriptures to pray through:
[amazon_link id="0805444203″ target="_blank" ]Praying God's Word Day by Day[/amazon_link]
[amazon_link id="0736919260″ target="_blank" ]Power of a Praying Woman[/amazon_link]
[amazon_link id="0736919244″ target="_blank" ]Power of a Praying Wife[/amazon_link]
[amazon_link id="0736919767″ target="_blank" ]Power of a Praying Husband[/amazon_link]
[amazon_link id="0736919767″ target="_blank" ]Power of a Praying Parent[/amazon_link]
[amazon_link id="0736920862″ target="_blank" ]Power of Praying for Adult Children[/amazon_link]
[amazon_link id="031027351X" target="_blank" ]Praying the Scriptures for Your Teens[/amazon_link]
Pray with others
Making a plan to meet with someone else to pray, whether at home or away, helps hold you both accountable.
Find a prayer partner and set a regular schedule for praying together in person or over the phone. If you can't think of anyone, ask God to show you whom you might ask. You don't even have to live in the same country! My prayer partner and I live in different countries and have prayed together weekly via Skype for the past three and a half years.
Make family prayer a normal part of every day. Most Christian families say grace before meals, but what other family prayer times could you add to your day?
Pray with your spouse. For ideas on making prayer with your spouse a reality, check out Lisa's post Five Tips for Praying with Your Spouse or Friend
Join a prayer group. Your church may have a prayer group, or you can join one like Moms In Prayer that has groups around the world. If you can't find a group, start one!
Start a prayer triplet. Pray regularly with two other people, each of you choosing three unsaved people for whom to pray. Learn more about prayer triplets from Evelyn Christenson here.
Keep a prayer journal
Keeping track of prayer requests in a dedicated journal can be a huge blessing. Not only does a journal help you keep track of requests, it will serve as an amazing encouragement in days and years to come. I sometimes sit with my prayer journal, reading prayer requests from years ago, and marvel at what God has done!
Buy a blank notebook. I use a pocket-sized Moleskin-like notebook that I keep by my bedside. It looks a lot like [amazon_link id="8862930003″ target="_blank" ]this[/amazon_link], except pink, because pink makes me happy!
Create a prayer mini-album. Julie shares instructions, as well as a free printable for divider tabs, in her post Prayer Album for Women on the Go.
Create a prayer jar. For a twist on the prayer journal idea, make a prayer jar. Keep the jar in a prominent place in your home and add scraps of paper with prayer needs to it. Set a daily time when you pull a prayer need out of the jar to pray over. This is a prayer activity that especially appeals to children.
 There are many more ways you can help grow the habit of spending time in prayer.
What tips would you add to our list?
Do you use a prayer calendar or book that you would recommend?
We love to hear from you – please share in the comments!