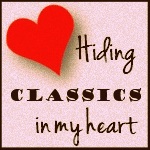 Do you have favorite go-to Bible verses that personally help you through tough times? Or ones that help word your praise in good times?
We have special verses as a community, too. At funerals, weddings, baptisms, etc., we often are called upon to quote in unison such passages as Psalm 23 or the Lord's Prayer.
If you have never memorized these—or need to see them anew with fresh eyes!—please join our easy summer memory challenge, Hiding Classics in My Heart, beginning Monday, June 3, for 12 weeks.
Go here to register and to download the verses and the schedule. More FAQs are here. This challenge is great for the whole family!
Then return here each Monday throughout the summer to share how it's going and what you're learning.
If you write a post about scripture memorization on your own blog, please add it to our Spring Link-Up here. We'll have a new link-up go live on Wednesday, June 5.