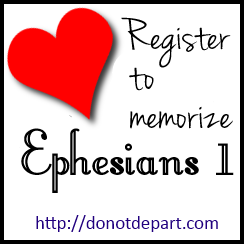 It's one week away! On September 16 we'll begin memorizing Ephesians 1 together, two verses per week.
Why you *think* you shouldn't sign up
I'm horrible at memorizing
I don't have time
I don't see the point
I didn't stick with it last time
But why you should sign up anyway!
It's easier than you think
There's no better time than now
You'll find blessings you didn't expect
This is a new day
While memorizing isn't something we have to do, it's something we get to do.
While we can't guarantee you'll memorize every word picture-perfect (none of us do that!), we will be praying for you to grow closer to Jesus as you spend time meditating on truths about Him and with Him.
Will you give it a try? If so, please register here to receive our eNewsletters, and download as many free resources here as you find helpful.
Also mark your calendar for this: Blog link-up here, Wednesday, September 18. We want to hear what you have to share about scripture memory!
Please leave a comment or ask any questions below.