"James, do your best worst!" Lee said to our three-year-old son on the morning of November 16, 2010.
We were met in the office and taken to a room where three women who worked for the school system waited—a speech therapist, an occupational therapist, and a psychologist. The therapists immediately got James busy doing puzzles, shooting a ball through a hoop, identifying colors and shapes, and bouncing on a big ball. He received lots of verbal praise and encouragement and seemed to enjoy the attention and activities.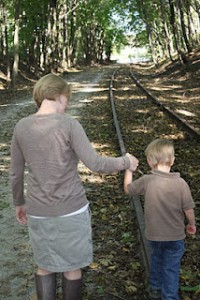 The psychologist sat with Lee and me, asking questions and taking notes. We talked about James's development (When did he take his first step? When did he say his first word?). We talked about the skills he seemed to have lost (not knowing colors anymore and not greeting Lee when he got home from work). We told her what we had read and what we had learned from Nicole, James's occupational therapist.
After an hour of testing James and talking to us, the team left the room to discuss their observations. They seemed to be gone a long time. When they returned, the occupational therapist went back to playing with James so we could talk to the psychologist and speech therapist without distractions.
The psychologist talked first about James's strengths: how cute he was, how much fun they had with him, how easy going and independent he seemed to be. He was able to shoot a ball in the little basketball goal and was easy to motivate with tickling or food treats. He could also name all the letters he saw on a bulletin board. Then she talked about his weakness. He couldn't use a spoon correctly. He couldn't name the basic colors or match basic shapes. He did do better when he was stimulated (like after bouncing on a big yoga ball), but even then he was far behind the abilities of typical kids his age.
The psychologist looked nervously at the speech therapist to her left and then back at us. "This is the hard part," she said. "Based on his testing today and our observations, we believe James has autism." I immediately relaxed, feeling like a weight had been lifted. We had a diagnosis, now we could make a plan. I assured them we were fine with the "bad news." I told them I had read enough to expect what we were dealing with.
I asked, "What do we do now?" and they handed me a binder from the local autism support group. They said, "It will take up to six weeks for us to finalize the paper work for this evaluation, then another six weeks before he's placed in a developmental preschool class."
We made more small talk and even laughed; I think they were relieved we didn't break down in tears or lash out in anger like most parents they see. (I didn't realize at the time that Lee did want to break down in tears and lash out.) As they continued to watch James, they said he would be a lot of fun to work with and they were sure he would make progress in his class.
We said good-bye and drove away. When it was just us, we were able to let the news sink-in. Lee said, "They only saw him for an hour. Are they sure? Can we get another opinion?" But for me, they had been our fourth opinion. Our first opinion was our intuition that something was wrong. The second opinion was from Nicole, his occupational therapist. The third opinion came from the books on autism I read that described James perfectly. The evaluation that day was the final confirmation of what I already knew.
The book of James says, "Every good gift and perfect gift is from above, coming down from the Father of lights, with whom there is no variation or shadow due to change" (1:17).
It's easy to see what we would consider as good and perfect gifts coming from God: good health, happy and obedient kids, pretty weather, and extra quality time with our husbands. These are all good gifts. But everything we have or encounter comes from God, so we must also consider the hard things good and perfect gifts.
Because I accept that James's autism is a good and perfect gift, I can pray, "God, thank you for trusting me with this responsibility. I want to glorify You in everything, including this challenge. I need Your help to not grow resentful, but to see this from Your perspective, as a good and perfect gift."