It was the summer of 2000. My husband was traveling overseas and I was home alone with our three year old. Day and night it was just the two of us in our little suburban house, and I was getting stir crazy.
We needed a change of scene. Fresh air, an adventure. A quick internet search turned up a list of pick-your-own berry farms in the Austin area.
It was a long early morning drive far east of the city, but when we arrived at the blueberry farm I felt like I had come home. The towering pine trees reminded me of New England, of my roots. I picked and my boy ate a lot of blueberries that morning. It was a happy day.
But more than that, a yearning sprung up in me. I think it was the pines. I remember thinking "If we ever move out to the country, this is where I want to look. Out in these pines."
The Adventure Begins
And in May 2003 we did just that. We had been talking for years about starting our own little homestead. One day my husband looked at me and said, "We could talk forever. Let's just do it now." Four weeks later our house was empty and on the market.
We looked all over that county with the beautiful pine trees. We finally found a lovely property perfect in every way. Except there was no house. But we wanted to live debt free, and had grand ideas of how we would find a way to shelter ourselves on that land without any debt. It was a little scary, but it felt right.
We made a bid and entered into a contract.
My parents were spending the summer away, so we arranged to move into their home and take care of it, while we quickly figured how we could live on our new property.
It wasn't until all the papers were signed that it hit me. The property we were hoping to buy was on the very same road as the blueberry farm. The very same road.
But Where Will We Live?
Time passed, the land became ours. Still no house. My husband continued to travel every week… now I was alone with two young children. Working on the property was complicated by the fact that it was over an hour's drive from my parents' house.
More time passed. We threw around ideas. We considered building a cob house. A dugout. Buying a yurt. Converting a metal building. Constructing a barn with tiny living quarters. Buying an old house and moving it to the property. Nothing felt right.
My parents returned.
Time stopped passing and started dragging. I would pray "What are we doing wrong, Lord? Why isn't anything happening?" I was discouraged. I couldn't see a solution. But this verse kept coming to mind:
Unless the LORD builds the house, They labor in vain who build it. Psalm 127:1
I remember one time during prayer having an overwhelming sense that we weren't ready. That there were things God still needed to do in us before we would be prepared to embark on the rigors of homesteading. But what?
A Reason for Waiting
What I didn't guess was that there was work for us right there in my parents' house. Ten months after we moved in, my dad went to a routine heart check up and was sent straight to the hospital. Within a day he had been scheduled for a quadruple bypass.
As if that wasn't dramatic enough, my brother was getting married two weeks later, and there was a party for 85 people planned at my parents' home the night before the wedding. International visitors were flying in and staying at the house. My mom was a wreck.
But because I had been living there, I knew exactly how to run her household, and my mother was able to focus on taking care of my father as he recovered. Even having our young children around was a help, as they cheered and distracted my dad. The party was a success, the wedding beautiful, and we passed the one year anniversary of living with my parents.
I wondered if we would be there for the rest of our lives.
God's Creative Solution
Then one day, out of the blue, the people who lived on the property adjoining ours called my husband and asked him if we would like to buy their house. And land. And barns and fences and ponds, and WOW!
We said yes! And went from not knowing how to live on our land to having a ready-built house and multiple outbuildings. We even adopted their dog and cat.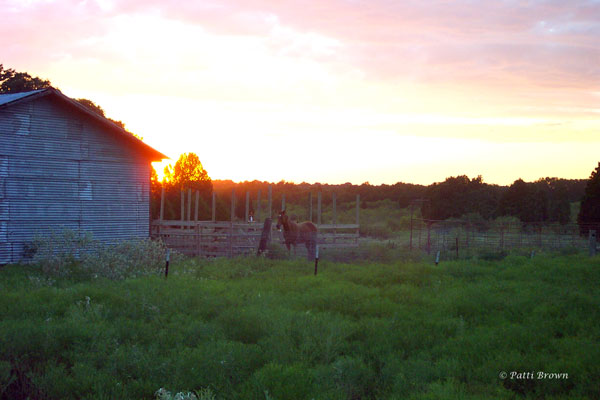 A Happy Ending That Was Just The Beginning
After fifteen months of living with my parents we moved to our homestead. We have been here now for almost eight years. And I still sometimes walk out into the middle of a field and break into song with tears streaming down my face. Homesteading has been hard in many ways, but the most beautiful hard you can imagine.
God not only provided for us (and my parents) in a most creative way, but He also prepared us.
I couldn't have dreamed up how the story of trying to move to our homestead would end, and I can't begin to imagine what He yet has in store.
Now to Him who is able to do far more abundantly beyond all that we ask or think, according to the power that works within us, to Him be the glory in the church and in Christ Jesus to all generations forever and ever. Amen. Ephesians 3:20-21