We're excited to announce the next Hiding His Word challenge! Are you ready for it?!
Drum roll, please……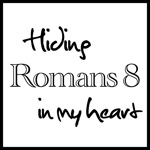 I am excited for this scripture memory challenge. There are many essential truths found in these 39 verses. Truths that I need engrained into my mind.
There are more details to come, but we have some fun ways YOU can be involved in the behind the scenes work of this challenge.
Audio Recordings
We want to offer recordings of the verses, but instead of them all being in my boring voice, I would love to hear your beautiful voices instead!
Would any of you be willing to record yourself reading a section of Romans 8? It doesn't need to be anything special or dramatic, just you reading scripture! I will compile the recordings and make them available here at Do Not Depart for anyone who wants to take up the challenge.
UPDATE: We have the recordings set!  Thank you!!
Computer Wallpaper
Having the verses available around the house is a great help in your memorization efforts. Many of you are super creative with things like this. Would anyone be interested in making up some pretty screen savers for us to use? It can be a photograph you have taken, with the verses added to it, or just the words creatively displayed.
Verse and "First Letter" Cards
Being able to review throughout the day is essential, and the first letter memory tool is extremely effective. I thought it would be fun to have some cute cards made up. Something simple and small that can be hung up in key places around the house.
Anything Else?
Do you have any ideas for other ways we can resource you in scripture memory? Leave us a comment, and let us know!
You can email us, or leave a comment if you are interested in helping out with this challenge.
We are looking forward to all you are going to come up with!