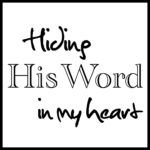 It's time to share!
Have you been memorizing scripture this past month? Tell us about it. As with any spiritual discipline, Bible memorization can be filled with ups and downs, but as fellow travelers on this journey, we never walk alone.
Please link any blog post(s) you've written or videoed the past month about ANY verses you've worked on. Buttons are here. As time allows, also visit others on the list. Then come back throughout April to add more and read more.
If you're NOT memorizing anything, or want to add to your current memory work, join us for a special 50-day challenge between Easter and Pentecost to meditate on and memorize John 1:1-14. Resources and details here.