Please link your posts below about scripture memory.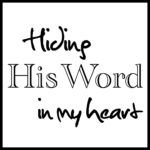 Suggested topic:
What works for you? When you're memorizing Bible verses, some things help more than others.
Think
When you've had a good run of memorizing, what were you doing?
Write
Put it into words in a blog post or in the comment section below.
Link
Share your experience so others can be helped.
You never know if that quirky little thing that helps you may be just the tip someone else needs. Our journey to memorize isn't just to reach the goal of "done" but to grow together as we walk alongside each other and with God.
We'll keep the linky active all October, so please visit often.