When I don't set my mind on truth, my mind automatically sinks into shame.  And shame opens wide the door to fear.  It is so crafty, this fear, that I take it on as my very identity: I am afraid, I hear myself say.  And in the saying, I practice the presence of fear, rather than rest in the safety of God.  I practice my identity as one who is afraid, rather than set my mind on the truth of my salvation, as one who has been given a spirit of power, love, and a sound mind. …

It takes work to set our minds on truth.  It does not come naturally; it comes supernaturally as we depend on Christ to remind us of truth that is already true, to call to our minds the reality of the victory he has won…"For the mind set on the flesh is death, but the mind set on the Spirit is life and peace" (Romans 8:6).  The mind set on fear, worry, anger, hurt, revenge, lust, jealousy, and shame is death, but the mind set on the Spirit is life and peace.

What you believe about God and yourself and the world becomes your hiding place.  If what you believe is true, then where you live and breathe is a safe place.  But what if the things you believe about God and yourself and the world are untrue?  Then the place where you hide is decidedly unsafe.

Just because we feel safe where we hide does not mean we are safe.  I feel safe behind my mask, not because it's always comfortable, but more because the alternative is unknown.  To step out from behind that mask is to risk exposure and rejection.  That is why I stay here.

It is only when the haven I thought my mask provided begins to crumble that I will be willing to consider the possibility that perhaps it isn't as safe as I once believed.  Our hiding places can be either our havens or our prisons.  Setting our minds on the truth of God's Word will ensure that we don't stay captive behind those tattered, tired-out masks.  And we will then say with confidence,  "You are my hiding place; You preserve me from trouble; You surround me with songs of deliverance" (Ps 32:7).
Emily P. Freeman, "Grace for the Good Girl"
______________________________________________
 For the month of December we are sharing posts and quotes to help us escape the Cycle of Try Harder, through Believing Better.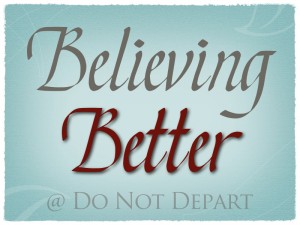 Read more Believing Better posts here.