Congratulations if you memorized all or even part of Romans 8 with us! I pray you were blessed by your time in the Word. Link up here on April 3 with a post on your blog or comments about your experience.
And now…
New Bible Memory Challenge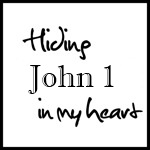 Want to connect more with Jesus during the 50 days between Easter and Pentecost Sunday?
Join us for a short, low-pressure memory challenge. For seven weeks, we'll learn two new verses a week, getting to the heart of who Jesus is and what He came to do.
We'll provide resources, starting next week, from the English Standard Version–printable sheets for the schedule, text, first letters, and more. But of course you're free to memorize in your own favorite version. Check out these general memory resources available now.
Quick Details
Text: John 1:1-14
Start date: Easter Sunday, April 8, 2012
Finish date: Pentecost Sunday, May 27, 2012
Suggested pace: 2 verses a week
If you're on Facebook, join our NEW Hide His Word group. It's open to anyone memorizing ANY scripture at any time. We'll provide tools and ongoing support for all who are on a lifelong journey of hiding God's Word in their hearts.
Spread the Word
Invite your friends to join us, too. If you tweet, use the hashtag #HideHisWord. I'll be tweeting this:
I'm memorizing 14 verses in John 1 with @DoNotDepart. Join me? http://bit.ly/GItFXK #HideHisWord
May God be glorified through His Word in us!
In the beginning was the Word, and the Word was with God, and the Word was God. John 1:1
Next Week
Full schedule and resources…coming soon!