We all wait for something.
We wait for phone calls. We wait for friends. We wait for jobs, for answers, for hope fulfilled.
Sometimes we wait years for an answer to a prayer or a new path to take. Sometimes waiting might mean only a few hours for test results, but it's a life-halting wait.
In my family's own (current) waiting, waiting for so long without foreseeable results causes me to feel helpless. Helpless and unable to affect a situation positively. How do we endure this waiting?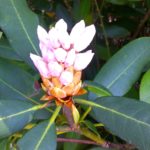 God speaks to this struggle, too. He shares in His Word wisdom on waiting.
What To Do While We Wait
Watch for wisdom while we wait: "Hear instruction and be wise, and do not neglect it.
Blessed is the one who listens to me, watching daily at my gates, waiting beside my doors." – Proverbs 8:33-34
Wait on God, even when trouble presses in: "Be still before the Lord and wait patiently for him;
fret not yourself over the one who prospers in his way,
over the man who carries out evil devices!" – Psalm 37:7
"Wait for the Lord; be strong and take heart and wait for the Lord." – Psalm 27:14
Wait, knowing God will answer, even if it's not in the way we may have thought: "In the morning, Lord, you hear my voice; in the morning I lay my requests before you and wait expectantly." – Psalm 5:3 (NIV)
"But for you, O Lord, do I wait; it is you, O Lord my God, who will answer." – Psalm 38:15
Even while we wait, rejoice in our loving God: "…yet I will rejoice in the Lord; I will take joy in the God of my salvation." – Habakkuk 3:18 (Read Habakkuk 3:16-19)
"…live self-controlled, upright, and godly lives in the present age, waiting for our blessed hope…" – Titus 2:12b-13a (Read Titus 2:11-14. Read also Jude 1:20-21.)
Why to Trust While We Wait
Christ suffered for us all, and offers salvation which we can look forward to during our waiting: "…so Christ, having been offered once to bear the sins of many, will appear a second time, not to deal with sin but to save those who are eagerly waiting for him." – Hebrews 9:28
"Be patient, therefore, brothers, until the coming of the Lord. See how the farmer waits for the precious fruit of the earth, being patient about it, until it receives the early and the late rains. You also, be patient. Establish your hearts, for the coming of the Lord is at hand." – James 5:7-8
What verses encourage you while you wait for needs or answers? How do you use God's Word to help others in their wait-filled struggles?