Have you been memorizing Bible verses?
Haven't been, but want to?
Write a post about it and link, or leave your comments below.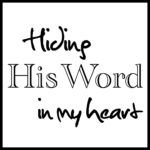 Suggested topics:
Why I memorize (or Why I want to memorize)
Tips and tricks that help me memorize
Favorite verses (or chapters) I keep in my heart
Why NOW is the time to begin
What I've been memorizing lately
We're beginning a new memory challenge this month: 1 Peter 1. Register here Wednesday, August 8, and begin collecting resources. We'll officially start August 19 and finish the week before Thanksgiving. Hope you'll join us!
Link your own memory blog posts here the whole month of August.
Please be neighborly and visit at least one or two other friends. Thanks!