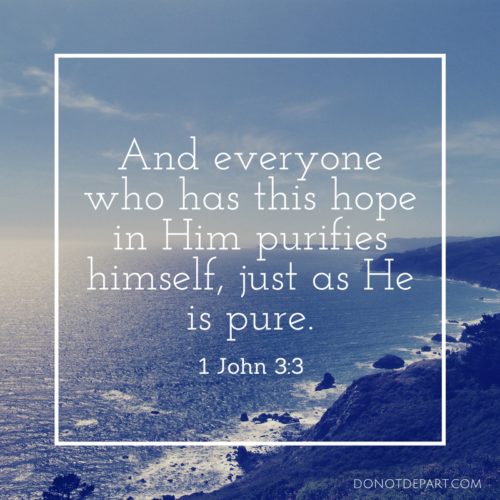 And everyone who has this hope in Him purifies himself, just a He is pure. 1 John 3:3
I don't know about you, but I don't often feel very pure. I yell at my kids on a nearly daily basis. I want to strangle my husband when he spends more than I deem appropriate. And I kick the dog when he gets in my way. And this just the beginning of everything that makes me feel less than pure. I easily get annoyed with the guy in Sunday school who just seems to enjoy the sound of his own voice and I find myself frustrated when the worship team plays another song I don't know. These selfish reactions are not the way a pure person would react. Are they?
When I choose to focus on all my imperfections I can get so discouraged, even lose hope that I will ever be like Christ.
But, if I remember to put my eyes back on Jesus, the living and active Word of God, my confidence is restored and I am no longer ashamed of who I am.
I am loved.
I am a child of God.
When I look at the above verse in context I can plainly see these truths.
And know, little children, abide in Him that when He appears, we may have confidence and not be ashamed before Him at His coming. If you know that He is righteous, you know that everyone who practices righteousness is born of him. Behold what manner of love the Father has bestowed on us, that we should be called children of God! Therefore the world does not know us, because it did not know Him. Beloved, now we are children of God; and it has not yet been revealed what we shall be, but we know that when He is revealed we shall be like Him, for we shall see Him as He is. And everyone who has this hope in Him purifies himself, just as He is pure. (1 John 2:28-3:3, emphasis added)
I know with confidence that I am a child of God because I abide in Him. And I know that I abide in Him because I practice righteousness. Now, don't get me wrong here. I am not claiming in anyway shape or form that I have reached sinless perfection. Certainly not! I am very much a sinner, as I have already made clear with my confessions of petty selfishness. However, I do practice righteousness.
Have you ever heard the phrase "practice makes perfect"? It implies that we need practice because we aren't perfect yet. So I practice righteousness now (failing often), hoping for and believing in a day when I will be sin-free, when my sanctification will be complete, and I will be pure as Jesus is pure. And I practice willingly now, even though I find it can be very difficult, because as a child of God I am no longer okay with my sin.
The last verse in the passage says "and everyone who has this hope in Him…" In Him… Not a hope in ourselves or our circumstances… Not even a hope in heaven or our future glorified state… But hope in Him "purifies himself". Hope in Jesus is the only hope that will purify any of us. This is the hope that allows us to confidently say "Yes, I am a mess, but when Jesus comes I won't be ashamed. He already knows everything about me. I've brought everything into the light as He's asked me to (1 John 1:5-9) and He still promises to claim me as His!"
---
Friends,
Please remember that I am human and flawed and my thoughts on this passage and others may not always be right. Please hold what I write up against the Word of God and listen to the Holy Spirit as He speaks to you directly. That said, I'm wondering if you are struggling to believe with all confidence that you are a child of God. I wonder if you struggle to believe that you are pure just as Jesus is pure. If so, please leave a comment or send me an email. I'd love to share some amazing truth with you. Truth about what Jesus has done for you and who He says you are as a believer.
Only by grace,
Kelli