If someone asked you to explain what Biblical hope is, would you have a ready answer? After all, what does hope mean?
In English, the current definition of the noun hope is, "the feeling of desire for a certain thing to happen." For its use as a verb, hope means "wanting a certain thing to happen."
For some reason, to explain what hope is not, I've often imagined a farmer, looking at his dry, dusty fields, shaking his head in despair and saying, "I sure hope it'll rain." And what he means is, "I sure want it to rain, but I know it isn't likely."
In the Bible, we never read of hope with that definition. It's not wishy-washy, or desirous of the unlikely. Instead, hope is a confident belief and expectation in the truths and promises of God. Hope always has a positive connotation.
(In the past, I've looked into the etymology of the word hope and found that some believe that there is a connection to the word "hop." I love the thought of my heart hopping toward God, my refuge, in eager expectation and joyful trust!)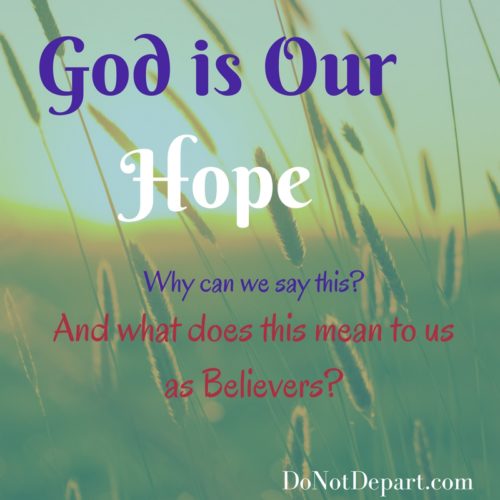 With that understanding of Biblical hope,
the Bible has much to say about God Himself being our hope.
For you, O Lord, are my hope, my trust, O Lord, from my youth. Psalm 71:5

"And now, O Lord, for what do I wait? My hope is in you. Psalm 39:7

Why are you cast down, O my soul, and why are you in turmoil within me? Hope in God; for I shall again praise him, my salvation and my God. Psalm 43:5

"The Lord is my portion," says my soul, "therefore I will hope in him." Lamentations 3:24
And why specifically is God our hope? And what does this mean to us as Believers?
He is our hope because of His power.

His power means He can perform what He says.
Our hope is founded on His ability.

He is our hope because of His provision.

His provision means He will provide for us with His best for our eternal good.
Our hope founded on His loving care.

He is our hope because of His promise.

His promise means that His word is good.
Our hope is founded on His trustworthiness.

He is our hope because of His person.

His person is such that He is merciful, forgiving, faithful, good, and righteous.
Our hope is founded on His character.
He can overcome with His power. He can heal.
He can provide when there is no earthly way. He will make a way!
He can fulfill the promise that seems to good to be true. Grace? Strength? Wisdom? The hope of Heaven? Given!
He can do all that He has said in His word and more. Need forgiveness? or Reassurance? or To better understand His loving, sacrificial character? It's in His word.
As women armed with this knowledge, we can be like Samuel's mother, Hannah, who after pouring her heart out to the Lord in petition,
 "went her way and ate, and her face was no longer sad." (1 Samuel 1:18 b)
Like her, we also can hope confidently in God's power and ability to provide His best for us. We can rest in His trustworthiness and His good nature. We can leave all our concerns with the God of our hope, and with His Son Jesus who, logically (since He is the second person of the trinity), is also our hope. We can stand in hope– firmly planted in our God and Savior!
Paul, an apostle of Christ Jesus by command of God our Savior and of Christ Jesus our hope, 1 Timothy 1:1

The saying is trustworthy and deserving of full acceptance. For to this end we toil and strive, because we have our hope set on the living God, who is the Savior of all people, especially of those who believe. 1 Timothy 4:9-10
Yes, our hope (our confident belief and expectation in the truths and promises of God) is safe and has a firm foundation because God is who He says He is and all of His promises are true. That's something we can count on!
What does it mean to you that God is your hope? Tell us in the comments!
Ali