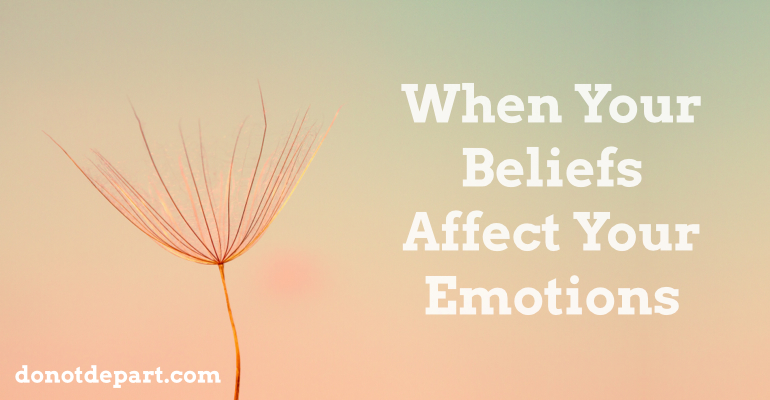 After a local musical performance of The Little Mermaid, Jr., a little three-year-old girl, Tori, bounced excitedly out to the lobby to meet the actors. Still dressed in their costumes, the characters awaited Tori and the other members of the audience, who herded through the foyer to the front door of the theatre. Tori walked joyfully as she acknowledged the Poor Unfortunate Souls, the Sailors, and various Sea Creatures, until she encountered King Triton. One look at his commanding presence and seemingly sharp trident, and her excitement quickly turned into terror. An ear-piercing, show-stopping scream came out of the little child.
The lobby was completely silent.
The lines of fantasy and reality are still being drawn in Tori's developing mind. The power of Triton was intimidating from a seat in the theatre, but standing two feet in front of him was all too scary for a child who believes the character is real. Her view of Triton—though incorrect—affected Tori's emotions and actions in very real ways (and the ringing ears of dozens of onlookers can verify her reality!)
This phenomenon does not stop with childhood. We all hold faulty beliefs, and many of them are tucked away in our views of God.
The way you and I view God is so very, very important. If our mental portrait of God is off from what is true, it will affect our daily emotions and choices. When we have an opportunity for a closer encounter with God, one that requires a trust in His goodness, our true beliefs about who God is will come into play.
If I believe my God is mighty, in-control, all-knowing, and completely full of love for me, I will draw near to Him and follow His lead in faith, because I know His plan for me is safe.
If I believe my God is weak, unable to deliver, and doesn't understand or care what I'm going through, I will cower in fear, maybe even run in the other direction, because I do not have confidence that God will provide for me.
See the difference?
Not only is the way I view God important, but how I think He views me, is crucial as well.
If I believe that God turns His back on me when I sin, or that He looks for ways to send punishment and judgement down on me, then I will run away and hide from Him when I mess up.
If I believe that my sin is paid for, through Christ, and that when God looks at me, He no longer sees my sin, but sees the righteousness of Christ which was given me at salvation, then I will joyfully and thankfully return to His presence.
For as by the one man's disobedience the many were made sinners, so by the one man's obedience the many will be made righteous. — Romans 5:19

There is therefore now no condemnation for those who are in Christ Jesus. — Romans 8:1
If Tori knew the real person behind the Triton costume, she would know that he is indeed a gentle, kind boy who would never do her any harm. However, her beliefs were a powerful dictator of her emotions, and her emotions led her to act in such a way that was inconsistent with the real Triton's character.
When we allow our faulty beliefs about God dictate our emotions and actions, we miss out on much of what He has provided for us through Christ.
Let's believe better today, and thus experience a deeper intimacy with God as we see him more clearly for who He really is.
How have you seen your faulty beliefs affect your actions? What are some ways you fight to believe better about God?
(I've also podcasted about the importance of our beliefs in relation to our obedience, in my kick-off to a new series on the character of God in Psalm 46. If you are looking for ways to grab truth here and there—in under 15 minutes—the FOCUSed15 Podcast is for you!)