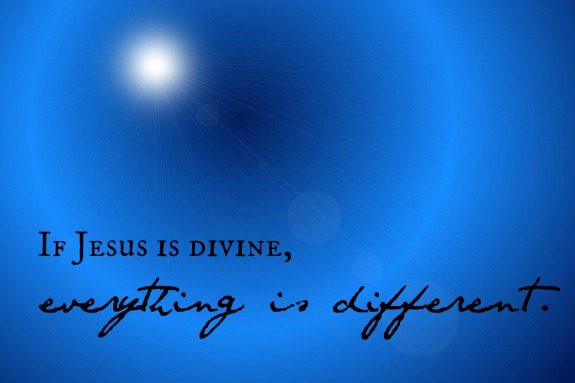 Here we looked at Jesus being fully human. And why that matters to us.
But what about Jesus being fully divine? Does it make a difference if He also is or isn't a God? Would that affect our everyday lives?
Yes, it makes a difference, and yes, it greatly affects us!
Because. . .
If Jesus is NOT the Son of God—we don't have to obey Him.
We could ignore His commandment about loving the Father and loving everybody we know. Um, can you imagine the implications in our relationships if we all lost our motivation to love and resorted to self-centeredness instead?
(See John 15:9-12; Mark 12:29-31; 1John 5:1-2)
If Jesus is NOT the Son of God—our past shame still binds us.
With no perfect sacrifice for our past sins, there would be no permanent forgiveness, no grace. Without a Savior to clean us up, we'd have to carry our dirty baggage around with us from birth past death.
(See Hebrews 1:3; 1John 4:14)
If Jesus is NOT the Son of God—then this life is our only hope.
Our promise of eternal life would be over if the Way is closed. A bright future forever in heaven would be hopeless.
(See John 5:24,39-40; 1John 5:11-12; John 14:6)
If Jesus is NOT the Son of God—so much for our royal lineage.
With Jesus not our brother, we'd be just another face in the crowd, made only in the DNA of our earthly parents, not in the image of a holy Creator.
(See John 1:1-3; Revelation 4:11; Hebrews 1:2; Colossians 1:15-16)
If Jesus is NOT the Son of God—we're on our own.
That would mean God couldn't be trusted and the Spirit never came. We would have no higher power to help us. God wouldn't live in us, nor we in Him.
(See John 10:33-38; 1John 5:20; Luke 10:22-23; John 15:26)
If Jesus is NOT the Son of God—there goes our community.
If Christ isn't worthy of worship, there would be no Christianity. With no mutual blood of Jesus between us, we'd lose our family ties we now have with those in the church (there would be no church).
(See Colossians 1:18-20; Ephesians 2:12-14)
But since Jesus IS the Son of God . . . we can love beyond ourselves. We start each day with new mercies. We're assured we'll live forever. We are a royal priesthood. We are divinely-empowered. We're included among the bride of Christ. We're redeemed, delivered, free!
Everything is different for us since Jesus is divine. Awakened to a higher purpose, we have a fuller joy now and a kingdom home with God forever.
(See John 10:28-30; 1John 4:15-17)
Believing in Jesus as my Lord and my God matters to me, both now and later. You, too?
Thomas answered him, "My Lord and my God!"
Jesus said to him, "Have you believed because you have seen me? Blessed are those who have not seen and yet have believed."
John 20:28-29
Question:
How has knowing Jesus as the Son of God changed your life? What's a favorite scripture of yours about Jesus? Let's talk in the comments.