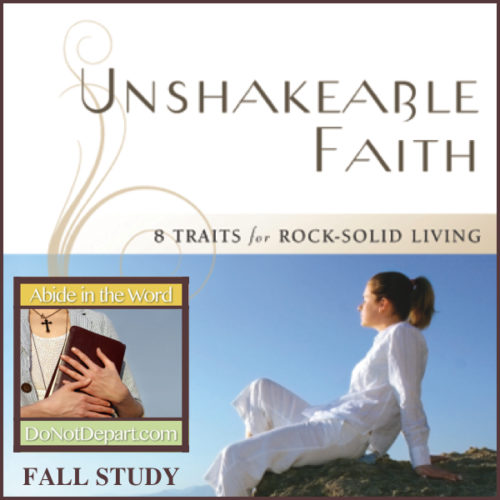 This post is the Devotional version of the study intro. You can also access the Quick Study(2 page version) of today's lesson in a PDF.  If you want to do the Full Study you can purchase the book on Amazon or CBD.
Have you ever faced hard or painful circumstances over which you had no control? The trial may have consumed your thoughts, time, and strength, but still you could do nothing to change it. Times like that can leave us feeling helpless and vulnerable.
Maybe even today your world has been turned upside down by grief or tragedy and you don't know where to turn. Even in those situations where we are powerless, there is One who is all-powerful. We can always place complete confidence in our Lord God.
In this week's study we will examine the identity of Jesus to help us find confidence to follow Him no matter where He leads.
 Unshakeable Faith Trait Two:

Secure in Your All-Powerful, All-Knowing, Sovereign God
When Jesus called Peter to follow Him, Peter knew He was a great teacher sent by God. But as the weeks and months passed, Peter learned much more about the power and authority of Jesus.
Look up the following Scriptures. Each passage relates a miracle of Jesus that demonstrates His divine authority over a specific area. Match each passage on the left to the corresponding area of power and authority on the right.
Mark 1:21-28                                      nature
Mark 1:40-42                                     demons
Mark 2:1-11                                          material world
Mark 4:35-41                                     disease
Mark 5:35-43                                    forgiveness of sin
Mark 6:39-44                                    death
Jesus has authority over demons. He can heal any sickness and cure every disease. Jesus can still the wind and calm the waves. He even has power over sin and death. And He also has the authority and power over every circumstance of your life.
Based on these truths, how might Jesus choose to work in the circumstances of your life?
God is able to do anything! However, He doesn't always act like we want or expect. Sometimes He allows us to go through painful circumstances. But even in the midst of the pain, God is always with us. He strengthens and comforts us in the midst of our troubles. And we can trust that He will work through our circumstances to accomplish His eternal purposes.
Let's talk: Has your view of Jesus been limited? What specific circumstance do you need to trust Jesus with today?