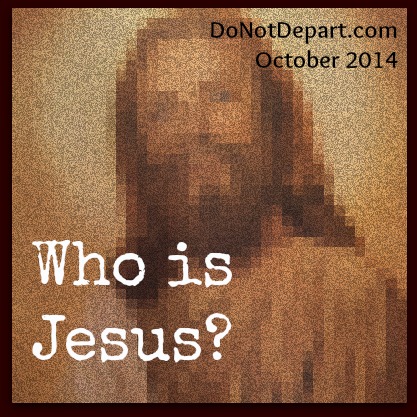 This month at Do Not Depart we've tackled a huge question: Who is Jesus? Although we will spend an eternity discovering the full answer, we have touched on a few vital truths.
Let's recap what we've learned:
Jesus is the True Sacrifice – Ali reminded us that Jesus was the final and full sacrifice for sin. "We can have hope because we have a loving Savior who gave himself to rob our sin. We no longer need to live under guilt and condemnation! We're set free from the punishment of sin! And we're able to approach the throne of grace confidently (Heb 4:16) any and every time we draw near to God."
Jesus was fully human – Lindsey showed us from Scripture that Jesus was 100% human. "Because Jesus was fully human, he understands fully what it's like to be human… He understands our struggles…  our fears … and our feelings of abandonment when God seems distant."
Jesus was fully God – Jesus was 100% human, but Scripture teaches He was also 100% God. (God's able to do math like that!) Lisa laid out a list of reasons why we must accept the deity of Jesus. "Everything is different for us since Jesus is divine. Awakened to a higher purpose, we have a fuller joy now and a kingdom home with God forever."
Jesus is our High Priest – Jesus is the only mediator between us and God the Father. He gives us access to God. I love how Caroline reminded us that because Jesus is our High Priest, "we can come to Him any time, any place, with anything on our hearts."
Jesus is the Messiah – Jesus is the Promised One, the Deliverer, the Savior, the One God's people had long waited for. I loved Patti's conclusion: "Jesus our Messiah bore our every sin. He was anointed to make intercession for us with His very life, and save us from an eternity of separation from God. Jesus is the Anointed Savior Who was promised from the beginning – our Messiah and our hope!"
We could say so much more about Jesus! But instead of me rambling on, I 'd like to share some words from the Nicene Creed, crafted by some of the early church fathers at the Council of Nicea in 325 AD.
I believe in one God, the Father Almighty,
maker of heaven and earth, and of all things visible and invisible;

And in one Lord Jesus Christ, the only begotten Son of God,
begotten of his Father before all worlds,
God of God, Light of Light, very God of very God, begotten, not made,
being of one substance with the Father; by whom all things were made;
who for us men and for our salvation came down from heaven,
and was incarnate by the Holy Ghost of the Virgin Mary, and was made man;
and was crucified also for us under Pontius Pilate;
he suffered and was buried; and the third day he rose again
according to the Scriptures, and ascended into heaven,
and sitteth on the right hand of the Father;
and he shall come again, with glory, to judge both the quick and the dead;
whose kingdom shall have no end.
Jesus – who is our Savior, our Sacrifice, our High Priest, and our God – is coming again as King!
For the Lord himself will come down from heaven, with a loud command, with the voice of the archangel and with the trumpet call of God, and the dead in Christ will rise first. 17 After that, we who are still alive and are left will be caught up together with them in the clouds to meet the Lord in the air. And so we will be with the Lord forever. 18 Therefore encourage one another with these words.  1 Thessalonians 4:16-18, NIV